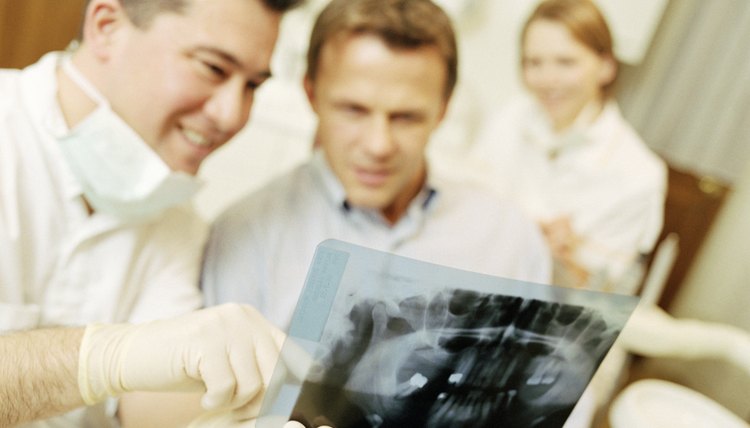 Several options are available for careers in dentistry.
Three schools in Pennsylvania offer the doctor of dental medicine degree to become a dentist. While each school's prerequisite requirements vary, all are four-year programs that look for undergraduate course work heavy in science and require admission through the American Association of Dental Schools Application Service. A number of less-intensive options also are available to people interested in the field of dentistry, but for whom a doctoral program isn't an option.
Temple University
Temple University's Maurice H. Kornberg School of Dentistry in Philadelphia does not require candidates to have a bachelor's degree, but preference is given to those who do. Would-be students must have completed coursework in biology, inorganic chemistry, organic chemistry and physics and at least 90 total semester-hours of course work. Applicants also must take the Dental Admissions Test, or DAT. The average DAT score of accepted applicants is 20.2 and the average GPA is 3.53.
University of Pennsylvania
The University of Pennsylvania School of Dental Medicine, also in Philadelphia, requires a bachelor's degree before entering the dental medical doctor degree program. It has prerequisites in biology, organic and inorganic chemistry, physics, biochemistry, English and math. The average DAT score is 21 and average GPA is 3.62.
University of Pittsburgh School of Dental Medicine
University of Pittsburgh School of Dental Medicine does not require applicants to hold a bachelor's degree but gives preference to people who do. Applicants must have a total of 120 semester hours before entering the program, including course work in biology, organic and inorganic chemistry, physics, biochemistry and English. Minimum GPA is 3.2, but the school will consider someone who has a 3.9 after 90 semester hours. A DAT score of 21 is considered competitive but a score of 24 is required for early applicants.
Dental Assistant
Dental assistants generally provide basic support to patients under the direct supervision of a dentist. There is no required education, however, most dental assistants do routine X-rays, which means they must pass the Dental Assisting National Board's Radiation Health and Safety Exam and obtain authorization from the Pennsylvania State Board of Dentistry. The majority of programs are at community colleges that also offer dental hygienist or expanded-function dental assistant programs. The advantage of such a school is that it generally counts some course work from earlier programs toward acquiring further education and a higher degree.
Expanded-Function Dental Assistant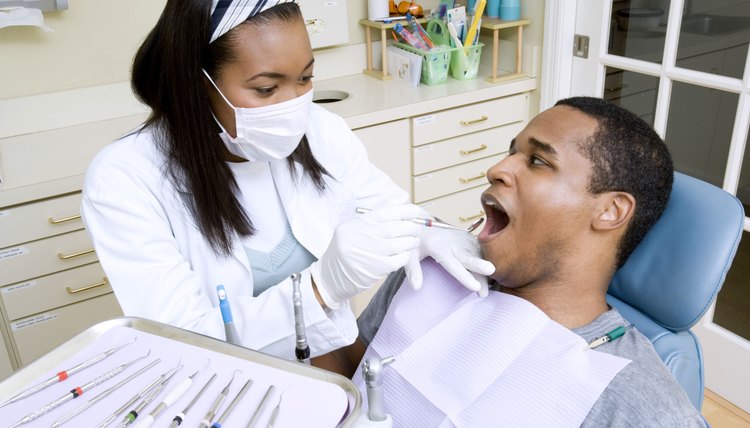 Dental assistants and dental hygienists play an important role in providing dental care.
Expanded-function dental assistants generally do more hands-on patient care than a dental assistant would, such as polishing teeth, inserting a dental dam, taking tooth impressions and applying fluoride. They work under a dentist's direct supervision. For this job, you would need an associate's degree from an accredited program for expanded-function dental assistants or dental hygienists or an equivalent set by the state board. You also must pass a test to be certified by the Pennsylvania State Board of Dentistry.
Dental Hygienist
Graduates of a dental hygienist associate's degree program are licensed as professionals. As such, they can work more independently on procedures they have been trained to perform and need less direct supervision from a dentist than dental assistants. Dental hygienists typically do routine cleanings, exams and X-ray procedures. They also can apply for a permit to administer anesthesia under direct supervision of a licensed dentist or a permit to work in a public health setting where direct supervision is not required.
Photo Credits
BananaStock/BananaStock/Getty Images