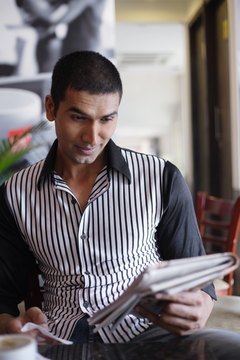 Influence the media as a publicist.
If you can put a positive spin on almost anything, then a career as a publicist might be right for you. Publicists, sometimes referred to as a public relations specialists, work in many areas, from entertainment to business to government, to ensure their clients receive recognition and understanding from the public. To become a publicist, you'll probably need a bachelor's degree in public relations or a related field, such as communications or journalism.
Public Relations Degrees
Although earning a PR degree isn't a must, this program could be your top choice if you want to be a publicist. The public relations field is highly competitive; holding a degree in this area is one way to gain an advantage. You'll also have more opportunities to prepare yourself for a career as a publicist, since many universities offer internship opportunities for PR majors. You might also consider a degree in public relations and advertising, offered by many universities. These degrees help prepare you for a range of careers in the PR and advertising world in case you find being a publicist isn't for you.
Communications Degrees
Earning a communications degree can prepare you for a career in the field of publicity -- ultimately, working as a publicist is about facilitating communication between your client and the world. In these programs, you'll gain many useful PR skills, like how to navigate the most up-to-date and ever-changing forms of communication, including social media. Many universities also offer students the ability to choose public relations as their communications degree concentration; doing so will allow you to complete more classes related to PR as opposed to other types of communication, such as interpersonal communication.
Journalism Degrees
A publicist's job requires a range of skills, and many of these can be gained by earning a degree in journalism. Because most journalism degree programs require or encourage hands-on journalism experience, you'll gain valuable insight into the way media outlets handle publicity while learning how to write and report effectively. As with communication degree programs, many universities offer journalism degree concentrations useful to future publicists, such as public affairs reporting.
Business Degrees
If you are fairly certain you'd like to become a publicist but would also like to gain education that could be useful in case you change your mind, earning a business degree could be a viable option. Although you probably won't have to earn public relations credits, you could take these courses to fill your elective requirements. Holding a business degree could also be helpful if you'd like to open your own public relations firm or work as a freelance publicist.
Photo Credits
Visage/Stockbyte/Getty Images