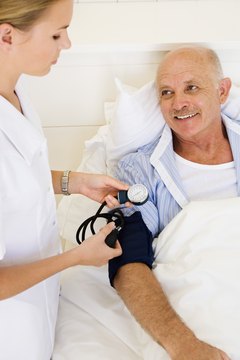 Registered nurses provide basic medical services, such as checking vital signs, and patient education.
The difference between an RN and a BSN is that one is a job title and the other is a degree. Demand for registered nurses is expected to grow faster than average over the coming years, according to the Bureau of Labor Statistics. Those interested in becoming a part of this growing career field have multiple options for their education, depending on their personal preferences and their career goals. One option is to complete a Bachelor of Science in Nursing.
Becoming an RN
To become a registered nurse, students must complete an accredited educational program and pass the NCLEX-RN, a national certification exam that is required for licensing. Aspiring nurses can choose one of three educational paths: a diploma program, an associate degree or a bachelor's degree. Diploma and associate programs typically take two to three years to complete, and a bachelor's program takes four years to complete. Each degree option provides different training and can lead to different career opportunities.
Bachelor of Science in Nursing
A BSN degree provides advanced training over a diploma or associate program. While diploma and associate programs provide a basic introduction to nursing skills and concepts, a bachelor's degree includes coursework in advanced nursing principles, community education and nurse management. BSN programs cover all the same information presented in diploma and associate programs, as well as more advanced concepts and managerial training. Students must be licensed as registered nurses before they can begin their BSN program in most cases, though some direct-entry programs are available.
Comparison of Job Duties
Diploma and associate programs can prepare students for entry-level nursing jobs, which includes duties such as providing basic patient care, managing patient records and educating patients about health-care issues. A BSN can prepare students for more advanced roles, such as nurse managers, community educators, teachers and researchers. Those with a BSN can work as public health educators in the community, as well as help train future nurses. They can work as entry-level nurses, as well, but they have more job opportunities.
Job Outlook and Salary
Graduates with a BSN are typically more competitive for even entry-level positions, and they generally earn more money than graduates with just a diploma or associate degree, according to the BLS. The American Association of Colleges of Nursing also says that the industry favors applicants with a BSN over those with just a diploma or associate degree. The Department of Health and Human Services reported that those with a BSN nurses earned an average of $66,316 in 2008, while those with just an associate degree earned an average of $60,890.
Photo Credits
Jupiterimages/Pixland/Getty Images