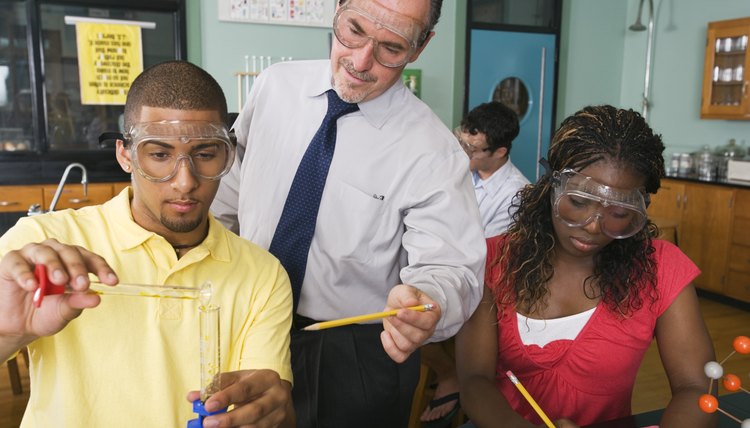 Students who enter trade schools get training for a specific career.
Trade schools help train adults for a career in particular fields, such as machining or cosmetology. Adults who enter trade school may actually earn more than a four-year college graduate. In most cases, trade schools have entrance requirements, so it's important to know what those requirements are before signing up.
Trade Schools
Trade schools, also called vocational or technical schools, have been in existence since the early 20th century, with the passage of the Perkins Act. Trade schools offer specialized training in many fields, such as radiology, culinary arts, welding and electrical and plumbing apprenticeships. Depending on the area of the country, the trade school may offer courses in trades that are needed specifically in that community, like marine engineering, oilfield technology and industrial machinery mechanics.
Academic Requirements
Trade schools usually have entrance requirements. Trade schools or vocational schools usually require that students have a high school diploma or equivalency. States such as California and New York have high school equivalency tests that trade schools in those states will accept instead of a high school diploma. Students should check with the trade school they're interested in attending to make sure a high school equivalency test is accepted there. Also, nearly all trade schools accept a passing General Educational Development test score instead of a high school diploma.
Placement Tests
Trade schools sometimes require placement tests before entrance. There are placement tests that are used nationwide, such as the Compass test, which measures a student's skills in reading, writing, math and English as a Second Language. Other trade schools use Accuplacer as a placement test. Trade schools may have their own English language, reading and math placement tests. Students who have taken either the ACT or the SAT may be able to opt out of placement testing. Many trade schools require other placement testing, depending on the career path a student chooses, such as automotive mechanics. Often, trade schools have practice test information for placement tests on their websites.
Other Requirements
Students who speak English as a Second Language and want to attend a trade school may need to take a placement test. Most ESL placement tests determine whether a student can begin regular English classes, or whether additional instruction in English classes at the trade school is needed first. The scores are reported as proficiency levels, which could be entry level -- or beginning English, or as high as proficient. Students who want to practice for an ESL placement test can find information on their trade school's website.
Photo Credits
Creatas Images/Creatas/Getty Images