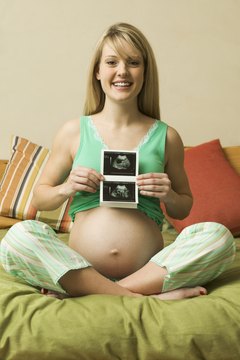 Sonographers are famous for examining fetuses, but they provide other services too.
Sonography and ultrasonography are interchangeable terms that refer to using sound waves to view images inside the body. Because it is sometimes difficult to diagnose the problems occurring in areas of the body like soft tissue, doctors and technicians use this technology to figure out what is happening inside patients. Becoming a technician isn't difficult, and on average, pays about $64,000 a year, according to the U.S. Bureau of Labor Statistics.
Education Requirements
The ultrasound or sonography program you enter will vary depending on your previous experience. If you want to get a simple, postsecondary certificate allowing you to work as an ultrasound technician, you must already have a degree. If you have no prior degree or experience, you will need to enter a program, usually at the associate level, certifying you to work in the field. Most programs also require a period of clinical work to gain experience.
Job Training
Learning from a professional already in the field is the way sonography and ultrasound technicians usually hone their craft after their schooling is done. Because the technology is used for much more than simply looking at fetuses, which many people associate them with, technicians must be familiar with most areas of the body, and how they look both when healthy and when unhealthy. Usually, students work with experts in their areas of specialty to learn about that specific part of the body and the procedures and equipment that go along with it.
Necessary Skills
Because sonography and ultrasound technicians spend a lot of their time pushing and pulling heavy equipment around and moving patients, you must be able to consistently deal with weights of 50 pounds or more. You must also have the use of both hands, which are instrumental in the precision work required to view specific areas inside the body. Communication is another necessary skill, since you will often be required to relay information to patients or those accompanying them without the mediation of a doctor.
Certifications and Examinations
Before you may officially enter the world of sonography and ultrasounds, you must become certified in the field. The American Registry for Diagnostic Medical Sonography is responsible for certifying hopeful technicians through a variety of different examinations that test students' proficiency with different parts of the body. Students may sign up for exams that cover diagnostic medical areas, such as the abdomen or breast; cardiac specialties, such as adult, fetal or pediatric cardiography; or proficiency in vascular or musculoskeletar systems.
Photo Credits
Photodisc/Photodisc/Getty Images