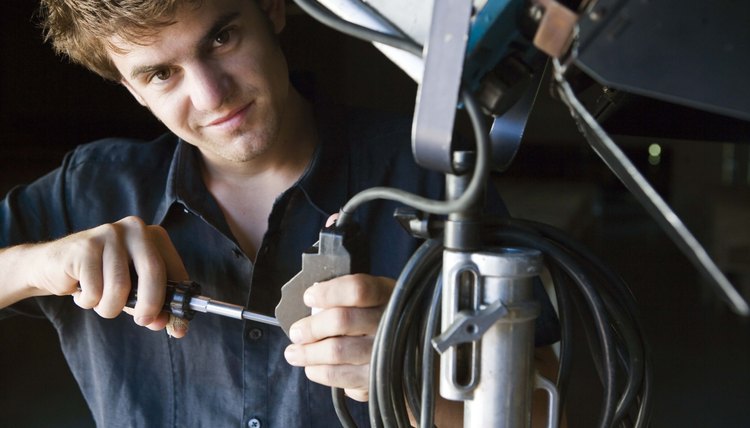 Many stage management programs provide backstage work experience.
While the actors take bows to the tune of thunderous applause, stage managers are often the unsung heroes of theater productions. Responsible for light and sound cues and orchestrating scene changes, stage managers require intensive training and knowledge of how plays are run. A university with a solid stage management program can help you get the education you need for this rigorous profession.
The Classroom Core: Boston University
Although stage managers spend more time off-stage than onstage, Boston University believes they still need experience with all aspects of theater, including performing. In your first two years, you'll complete a curriculum of courses in theater classes, including acting, playwriting, movement, art and dramatic literature. Subsequent requirements deal with directing, stage design, production management and opportunities for advanced workshops in these topics. BU also partners with theaters like the Huntington Theater Company and Boston Center for American Performance to give students practical, professional experiences in the theater arts.
Career Jumpstarts: Penn State
One of the most established undergraduate stage management programs in the country, Penn State's theater department focuses on giving students firsthand exposure to the mechanics of productions. The recommended academic plan provides students with experience in every element of plays, including costumes, lighting, makeup, writing, scenery and acting. All applicants must submit a portfolio detailing past and current theatrical projects. With graduates now stage managing Broadway shows, touring companies, regional theater, "Cirque du Soleil" productions and venues like Radio City Music Hall, a Penn State education gives training to both fulfill your ambitions and impress theater companies.
Management Mentorships: Virginia Commonwealth University
Consistently ranked in the top 10 arts programs of public universities, Virginia Commonwealth University immerses future stage managers in leadership skills as well as theater. Students work in close mentorship programs with Actor's Equity Association stage managers to learn tools of the trade before being unleashed to practice their craft in actual productions. As part of their applications, all prospective students must complete a prompt book, a master copy of a script that includes all stage directions, lighting cues, props and set designs, or a portfolio of other theater design work.
Staging in the Sun: University of Southern California
Located in Los Angeles, USC provides a high-energy, immersive environment for future theater workers. Unlike many other schools, which require students to complete core classes before doing actual theater work, USC aims to give even first-year students hands-on experiences in university productions. The curriculum teaches students how to create and edit prompt books, communication and cooperation with production staff members, and scenery design and lighting diagrams. USC also boasts an impressive list of backstage alumni, including Jack Bender, producer and director of "Lost" and "The Sopranos," and "Antwone Fisher," director Todd Black.
Photo Credits
Jupiterimages/Goodshoot/Getty Images