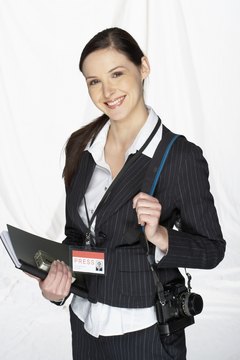 Journalism majors can begin their studies in high school.
With traditional print journalism in decline as an increasing number of publications silence their presses, journalism and communications graduates have the opportunity to use the digital revolution to redefine the industry. High school students interested in a journalism career can start their training by selecting classes that directly prepare them for college-level studies. The proper academic foundation allows students to jump into more rigorous coursework and professional internships that later aid in securing a first job.
Advanced Placement English
Above all, journalists are writers. Whether they pen pieces for the Internet, newspapers, magazines or television, a journalist must be able to write clearly, succinctly and descriptively. The College Board, which administers the Advanced Placement exams, offers two English courses. Many high school students elect to take one exam in their junior year and the other as a senior. However, if there is only time to sit for just one, English Language and Composition focuses on how to write purposefully, while the English Literature and Composition exam tests ability to understand and write about classic texts.
Computer Science and Applications
Much of a journalist's work is migrating toward the web. More than ever before, journalism graduates no longer need to scramble for one of the few cub reporter slots that open each spring. With the Internet, any journalist can push his or her reports to the world for everyone to see. A student who possesses some experience in computer science, particularly web, graphic or front-end design, has the ability to create and maintain a personal site for self-publication. He will also be a step ahead in the field of digital media.
U.S. Government and Economics
Many journalists choose to specialize in one specific area of reporting, known as a beat. High school students with an interest in politics or finance will benefit from enrolling in advanced placement classes in U.S. government or economics. With the introductory level courses in these areas completed, the student will have the option to enroll in more advanced specialty courses in college and build a deeper understanding of the subject. Once in the field, he or she will be able to report on the topic more accurately and with greater insight.
Journalism
If possible, high school students should participate in a journalism class at the secondary level. At some schools, this is a credit course, while other schools reserve participation for members of an extra-curricular club. Similarly, depending upon the high school, opportunities may exist to participate in a school newspaper, a school television station or the school yearbook. Students will learn the basics of researching and writing or producing for mass media while getting a taste of the reporting experience.
Photo Credits
Jupiterimages/Photos.com/Getty Images