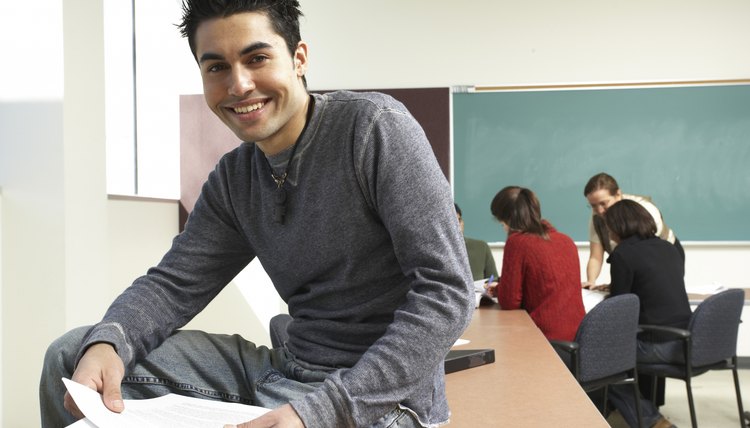 Colleges help transform young adults into well-rounded citizens during the educational process.
General education classes are typically required of students in degree programs at every college or university. They include a mix of classes from areas like math, science, writing, social studies, communication and humanities. Often called gen eds, these courses are often taken early in your program before you focus on core degree coursework toward completion.
Citizenship
A primary purpose of general education classes is for you to develop as a well-rounded individual, capable of critical thinking and able to view the world from a broad perspective. Colleges want students to graduate equipped to function as thoughtful and productive citizens beyond the careers in which they work. As a college graduate, you enter a diverse marketplace and interact with people in various jobs, industries and walks of life. Your capacity to think, to perform basic math computations and to speak and write effectively all reflect on the quality of the education you receive.
Career Flexibility
Despite disputing the nature of some career change studies, a September 2010 article in "The Wall Street Journal" indicated that young people do commonly change jobs. The Bureau of Labor Statistics noted that half of workers between 20 and 24 had been with a current employer less than a year. Because of the commonality of job and career shifts, it is vital that students have a broad range of skills to supplement a technical or vocational degree. A history degree may not help much if you get into sales, but your communication, math, human relations and sociology general education certainly will.
Job Diversity
Jobs have become increasingly diverse as employers rely on efficient employees to perform an array of job functions. Des Moines-based Principal Financial Group, use job rotations to introduce employees in its "Leadership Development Program" to various facets of the business before deciding which career path best suits them. In leaner companies, employee job roles have expanded. Someone in marketing at a small engineering or tech company may be asked to participate in various operational duties when marketing activities slow. Additionally, general education courses emphasize cultural diversity and awareness, which is certainly useful if you work in a highly diverse marketplace.
Basic Skill Needs
Employers need workers who not only have technical competency, but also a blend of basic employment and soft skills. The ability to read, write, perform basic math functions, interact with others and communicate are critical in many career fields. Businesses need employees who can write effective e-mails, memos and reports and also interact one-on-one and in small groups. These core, foundational skills often transfer from one industry to the next and contribute to your success in your chosen profession.
Photo Credits
NA/Photos.com/Getty Images