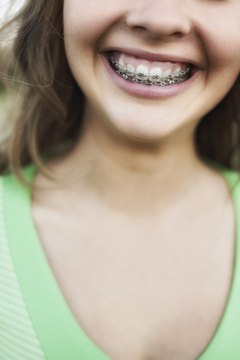 Orthodontists install braces and other devices to straighten the teeth and correct flaws in the smile.
Orthodontists practice a specialty branch of dentistry that includes straightening teeth and correcting other imperfections in the smile or the bite of a patient. Like dentists, orthodontists must attend dental school. However, they then must complete a two-year residency program that allows them to specialize in orthodontics. To be admitted to dental school, students must first complete a number of prerequisites, including completing certain courses, earning a minimum GPA and taking the Dental Admissions Test.
Prerequisite Courses
Though there is no specific undergraduate major that students must complete to be admitted to dental school, they must complete a certain number of prerequisite courses. The American Dental Association says that requirements vary by dental school, but in general, students must complete eight hours of biology with lab, eight hours of physics, eight hours of English, eight hours of general chemistry with lab and eight hours of organic chemistry with lab. Some dental schools may require much more. For example, Boston University requires three semesters of biology with lab, two semesters of general chemistry with lab, two semesters of organic chemistry with lab, two semesters of physics with lab, two semesters of math including calculus and two semesters of English. Several advanced science courses are also recommended. Because of the extensive course requirements for dental school, many students decide to major in biology or chemistry as undergraduates.
Grade Point Averages
Most dental schools require that students earn a grade of C or better in their prerequisite courses, as well as earning an overall minimum GPA. For example, the University of California San Francisco requires students who are California residents to have a minimum GPA of 2.7; those who are from out of state must have a minimum GPA of 3.0. All students should strive to earn a better GPA than the minimum required: Dental school admissions are competitive.
Dental Admissions Test
The Dental Admissions Test measures a student's general academic ability, knowledge of scientific concepts and perceptual ability. Students should take the DAT near the beginning of their senior year of college to get their scores back in time to submit with their dental school applications. The DAT is scored from 1 to 30, and a score of 17 is the national average, according to the American Dental Association. There is no minimum score required for admission to dental school, but students with the top scores have a better shot at admissions to the most competitive schools.
Other Requirements
Dental schools use a holistic process for reviewing students for admission. In addition to data like grades and test scores, admissions committees evaluate letters of recommendation, extracurricular activities, work experience, strength of undergraduate curriculum and perceived maturity and commitment to dental education. Students should do whatever they can to strengthen their undergraduate resume to improve their chances of admission, including joining student groups related to the dental profession, volunteering and securing related internships.
Photo Credits
Jupiterimages/Brand X Pictures/Getty Images