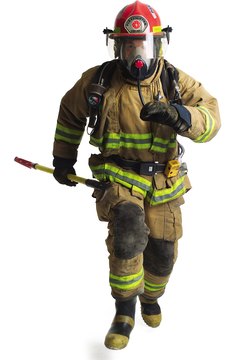 Firefighting requires a great deal of training.
You don't need a college degree to become a firefighter, but you will need specialized training before you'll be hired by a fire department. If you're looking for employment immediately after high school, take courses before graduation to give you a leg up on the competition when you start applying. Requirements vary between states and departments, but there are few courses that will be required no matter where you end up applying.
Medical Courses
You'll need medical training to become a firefighter because firefighters run medical calls in addition to putting out fires. In fact, firefighters are often the first ones on the scene of a medical emergency and will take charge of administering first aid until the paramedics arrive. About 90 percent of fire departments require you to have an Emergency Medical Technician certificate before they'll consider hiring you, according to the Fire Rescue website. In addition to basic health classes offered at your high school, many colleges allow high school students to take an EMT class before they graduate. Taking a CPR course would also be an excellent prerequisite for becoming a firefighter.
Math and Science
The science of fires and fire suppression relies on both math and science, so taking general courses in both while you're in high school will help prepare you for the job. Most fire departments will require you to pass a written test before receiving a job offer, and many of the questions will quiz you on basic math and science concepts. You'll also have to obtain certain certifications before most fire departments will hire you or promote you once you've become a firefighter. For example, to obtain a Firefighter 1 certificate, which is required By many departments, you'll have to obtain a Hazardous Materials certification, which requires an understanding of science concepts. High school chemistry, physics, geometry and algebra classes will prepare you for the aspects of the job that deal with pump pressure, combustion and building schematics.
Physical Education
Firefighting is a physical job and will require you to be in good shape. Taking physical education classes in high school will help encourage fitness and good health, two things that are essential for successfully doing the job. Take general physical education classes, of course, but consider weightlifting and strength training, as well. Almost all fire departments will require you to pass a physical agility test proving you're capable of carrying out the duties of a firefighter. Examples of what the test covers include climbing stairs in bunker gear, dragging a dead-weight dummy, running, dragging fire hose, climbing ladders and forcibly entering a building. If you're not able to do these things, you won't be offered a job.
Additional Courses
Because much of your job as a firefighter will require you to interact with the general public, consider taking communications classes. You might also consider introduction-level psychology classes, which are offered as electives at many high schools, because they'll teach you how to interact with people going through frightening or catastrophic situations. Hands-on experience is impressive to many fire departments, according to the Fire Rescue website, so consider college classes, too. Many community colleges allow high school students to enroll in classes before graduation. The classes will give you a chance to get up close and personal with fire engines and fire suppression equipment, which will look good on your resume when you start applying for jobs.
Photo Credits
Photodisc/Photodisc/Getty Images