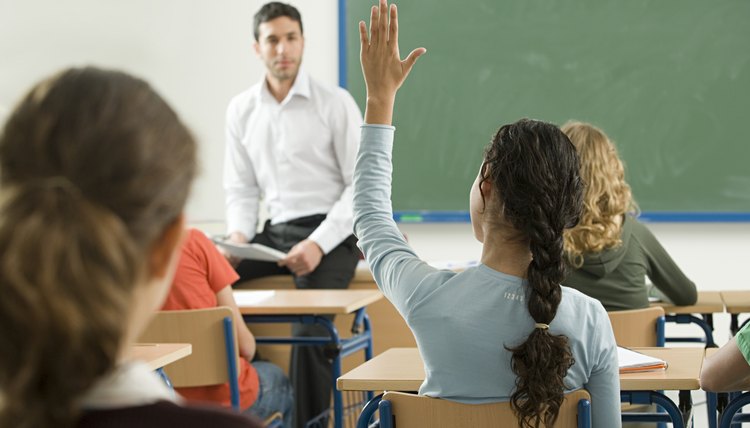 Social studies teaching in New York requires candidates to pass the "CST."
Anyone seeking to become a social studies teacher in the state of New York must obtain certification from the state education department. Certification requires aspiring teachers to pass an accredited education degree program as well as several exams, one of which is the content specialty test, or "CST." The social studies CST is a demanding test that candidates should familiarize themselves with before taking.
CST
The social studies CST is "criterion-referenced" and "objective based." A criterion-referenced test is designed to measure a candidate's knowledge and skills as they relate to established standards rather than in relation to other test takers. Objectives provide specific information about the knowledge and skills that are assessed by the test. The social studies CST is divided into six subareas that include: history, geography, economics, civics, citizenship and government, social studies skills and a written assignment in history.
Study Guides
A variety of helpful study guides exist for the social studies CST, many of them free. The New York State Education Department's free "Preparation Guide: Social Studies CST" includes a discussion of the six subareas and all of the 23 objectives that are distributed among them. According to this document, the test taker must be able to "analyze historical, geographical, economic, and political information from multiple perspectives; can use models, patterns, and other intellectual constructs to organize data; and is able to employ multidisciplinary approaches to interpret and explain social studies phenomena."
Test Taking Strategies
Chances for success on the four-hour social studies CTS exam can be improved through a number of useful strategies. The first strategy is finding the right pace. A test taker can spend as much time as necessary on any section and complete sections in any order. The second strategy is not to read too deeply into the 90 multiple-choice questions. The questions are not designed to trick the test taker. The third strategy is to guess on multiple-choice questions after eliminating as many of the options as possible.
Other Keys to Success
Sometimes test takers make careless errors for reasons unrelated to the content of the test. To minimize these errors, arrive on time to the test site and follow directions carefully. Read all response options and evaluate all choices before answering. Mark questions neatly, since this will be a machine-scored test. Finally, use any remaining time to check answers for accuracy.
Text-Based Questions
Some test questions are based on passages or other presented materials like graphs or charts. Some people prefer to read the answers first and read the passages second. Others prefer to read the passage or material thoroughly and answer questions after. Either strategy is fine as long as answers are based solely on the materials presented and not on the test taker's opinion.
Photo Credits
Image Source/Digital Vision/Getty Images