California Institute of the Arts, or CalArts, is world famous for its Character Animation undergraduate program. The selective program has produces some of the industry's most well known filmmakers: Tim Burton of Edward Scissorhands, John Lasseter of Toy Story, and Craig McCracken of Powerpuff Girls. The program's faculty and staff take the admissions portfolio extremely seriously. Applicants must submit a collection of work that reflects creativity and potential.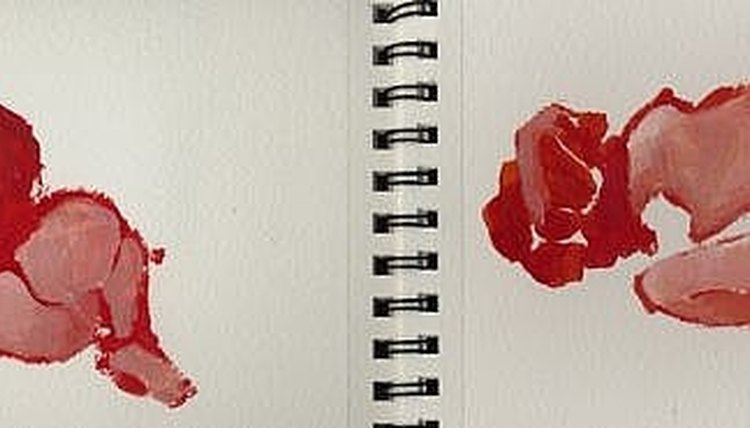 Figure painting of a posing figure model.
Enroll in figure drawing classes. Working with live models is essential. The constant exposure to the human form will provide for a stronger understanding in shape, volume, shadow, and light. The activity will improve observation skills and provide structured platform to experiment and distort. Strategically, participating in figure drawing will create a steady income of new works to include in a portfolio.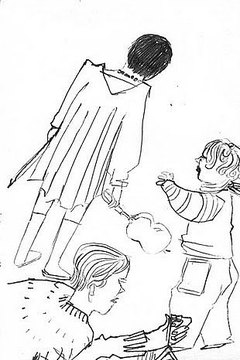 Fast pen drawing of children.
Draw people in motion. Speed drawing is a method of observing and quickly capturing motion. They're fast, messy, and tricky. This exercise can be difficult at first, but it will noticeably strengthen observation skills and build a sense for how people move. Recommended tools are ballpoint pens, brush pens, markers, ink quills, and anything that will produce a fast line. This is great activity to fill sketchbooks and can be done practically anywhere.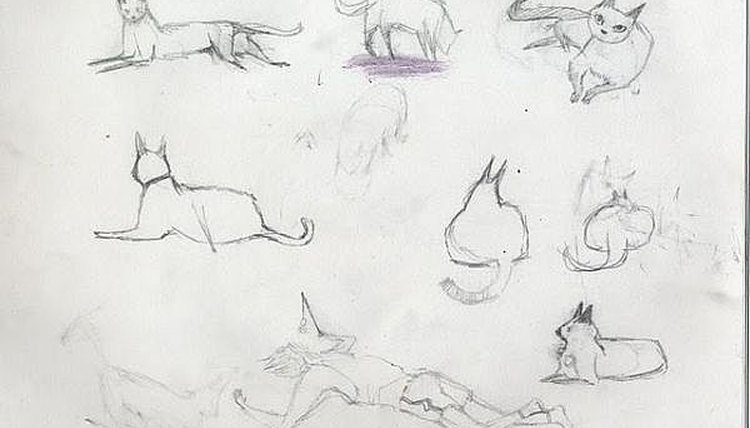 A pencil drawing of a cat in several poses.
Draw live animals. The goal is to become accustomed to capturing movement and a variety of forms. Explore different tools and do not be afraid to use color. Practice speed drawing for fast moving animals, but feel free to take longer time to explore setting, mood, and light. A local zoo is a great place to work every week. Although, one can also draw pets when zoos are unavailable.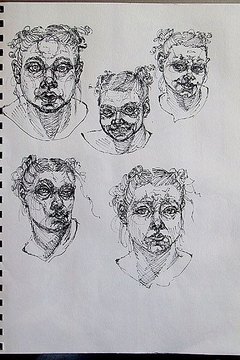 Pen drawings from Eliza Frye's successfully admitted character portfolio.
Draw from the mirror. Create challenges. Study the face with different lighting, angels, drawing styles, and use different tools. This can be an activity for the sketchbook or for larger portfolio pieces.
Things You Will Need
Nude or Semi-nude Figure Drawing
Zoo Drawings
Speed Drawings of People in Motion
Completed Sketchbooks
VHS of Past Animation (Optional)
Creative projects (supplementary)
Tips
Prepare ahead of time.
Enroll in figure drawing and life drawing classes.
Go to the local zoo on a regular basis.
Fill at least two sketchbook.
Experiment with color.
Try different tools: Markers, ink, charcoal, ball point pen, etc.
Submit any previous animation work.
Warnings
Do not submit Anime.
Always be original. Do not submit any cartoon style drawings that borrow from other artists: Bugs Bunny, Disney, Pixar, the Simpson, etc.
Photo Credits
Image from the Calarts Character Animation Website. Artwork By Ashley K Beccera.