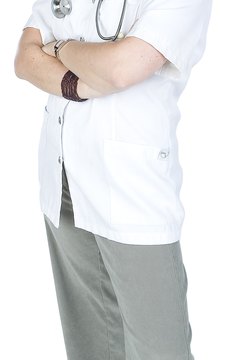 Nurses make an average of $64,690 per year in the United States.
Nurses come in all shapes and sizes, and so do their educations. A nurse working in a hospital, clinic or other health care practice may have a bachelor's of science in nursing, a master's degree, a Ph.D or a registered nurse certificate or degree. While nurses who studied in the 1980s and 1990s may have an RN degree and years of experience, most nurses graduating now have bachelor's of science in nursing degrees. The pay difference between nurses has more to do with experience than education.
Nursing Salary Average
A registered nurse may have a bachelor's degree, an associate's degree or a diploma from a nursing college. Across the United States, the average salary for nurses in 2010 was $64,690, according to the Bureau of Labor Statistics. The bureau also indicates that most nurses in this pay range have an associate degree, at least, though many have a bachelor's or a diploma in nursing from a nursing college. In Canada, pay scales vary by province, with nurses in Quebec starting at an annual salary of about $42,000, while nurses in Saskatchewan begin at $66,000.
Education Affecting Salary
Starting salaries for nurses remain largely unaffected by education. Salaries increase steadily for nurses after they put in years of work, though to see a significant pay raise, further education might be required later. According to Monster's Nursing Link, advanced nursing positions require a BSN or advanced degree, and could lead to a difference in pay of $5,000 per year. The Bureau of Labor Statistics says that nurse practitioners and health care administrators earn an average of $71,490, while RNs make an average of $64,690. Nurse practitioners and health care administrators, according to the bureau, earn master's degrees in nursing.
Career Advancement
Registered nurses can expect to find ample work in the United States between 2013 and 2020, according to the Bureau of Labor Statistics. The health care industry is growing at a faster-than-average rate, with 26 percent growth expected before 2020. Yet the bureau doesn't anticipate mean salaries to increase. The most feasible way to increase salary substantially is to look into a master's degree that will allow advancement to such positions as nurse practitioner or nurse administrator.
Pay Scale Between Practice Types
While education doesn't affect entry-level pay scale, the place of employment might. Typically, in the United States, private clinics and surgical hospitals pay the best rates, on average around $67,000 per year. Physicians offices and local clinics and hospitals pay close to $63,000 per year, whereas home health care service providers and nursing care facilities pay an average of $60,000 and $58,000, respectively. These jobs all require a nursing degree, but the Bureau of Labor Statistics doesn't specifically suggest that one type of nursing degree trumps another.
2016 Salary Information for Registered Nurses
Registered nurses earned a median annual salary of $68,450 in 2016, according to the U.S. Bureau of Labor Statistics. On the low end, registered nurses earned a 25th percentile salary of $56,190, meaning 75 percent earned more than this amount. The 75th percentile salary is $83,770, meaning 25 percent earn more. In 2016, 2,955,200 people were employed in the U.S. as registered nurses.
Photo Credits
NA/PhotoObjects.net/Getty Images