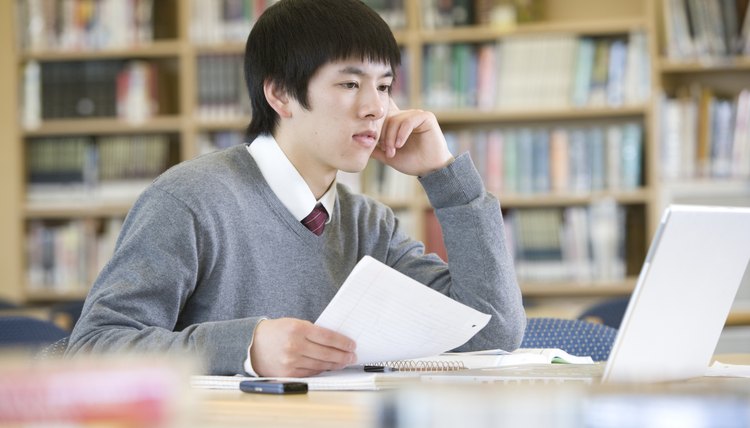 An online high school may be an appealing option, but you want to find out if it's accredited before registering your child.
As online K-12 options expand, you may be wondering if an online high school would be a good fit for your child. Finding out whether the online school you're thinking about is accredited is an important step in that process, especially since recognized accreditation may dictate whether colleges will accept your child's diploma.
The U.S. Department of Education doesn't publish a list of accredited high schools the way it publishes a list of accredited colleges, but there are other steps you can take to research the school you're considering.
Regional Accreditation
There are seven regional agencies in the United States whose accreditations are widely recognized by the government and the Council of Higher Education; the University of Oregon has compiled a list of these organizations on its website. If your school is regionally accredited, it should appear in the database of accredited schools of one of these agencies. Note that each of these organizations has a specific territory within the U.S.; an online school will be accredited based on where the organization is located, not where you live.
National Accreditation
In addition to regional accreditation associations, there are also national associations that accredit high schools. Not all of these national associations are acknowledged by regionally accredited colleges or by the government for purposes of financial aid. If the school you are interested in says it's accredited by a national agency, the best thing to do is to check if that agency appears on the Council for Higher Education's list of approved accreditation agencies. If it does not, most colleges would not accept a degree issued by the schools accredited by that agency.
Talk to Local Colleges
As a final precaution before enrolling your child in an online high school, you may want to call one or two of your local colleges and ask admissions officers if they accept diplomas from the school you're considering. Colleges usually have a list of online high schools whose accreditation they don't accept, but you may not be able to find this list on their websites.
Conclusion
Online K-12 education is relatively new on the education scene, and government and accreditation agencies are still struggling to create a regulatory framework for it. This can make it hard for parents and students to find information on a school's credentials, especially since schools are not always forthright about their accreditation. With a little extra legwork, though, it's still possible to find out whether the degree your child would get from a particular online school would be accepted by most colleges.
Photo Credits
Jetta Productions/Lifesize/Getty Images