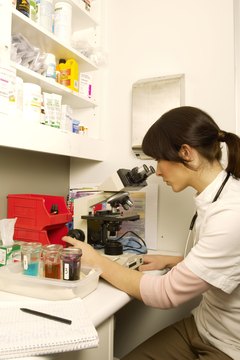 Endocrinologists research and treat many disorders related to hormone regulation.
The medical field is full of specialties, enabling physicians and researchers to develop thorough expertise in one aspect of the human body. One of these areas, endocrinology, relates to the endocrine glands, which regulate essential hormones. Practicing endocrinologists treat disorders such as osteoporosis, diabetes and a variety of conditions related to the thyroid, including goiters and hyperthyroidism. Generally, endocrinologists pursue either academic work, research or positions as medical physicians. At medical centers, endocrinology is often housed in the same department as genetics, metabolism, and diabetes-related treatments.
High School Courses
Becoming an endocrinologist requires many years of postsecondary schooling; as such, there are no required high school courses to become an endocrinologist. However, high school students can take advantage of advanced biology, chemistry and anatomy courses in preparation for undergraduate classes. They may also seek out work and internship experience in the medical field. Many medical and research centers host formal internship and work programs for high school students. Another option is to volunteer at a local hospital.
Undergraduate Coursework
There is no standard undergraduate major required in order to apply for medical school; however, most medical schools require applicants to have completed a four-year bachelor's degree. Medical schools generally require students to have completed a broad variety of course topics in college, including math, physics, biology, humanities and social sciences coursework. To present a strong application for medical school, students should seek out formal internship and work opportunities in their areas of interest.
Graduate Courses
To eventually become endocrinologists, students can apply to and enroll in doctor of medicine programs, which typically take four years to complete. Students take medical courses and complete lab work during their first two years of medical school, covering topics such as ethics, biochemistry, anatomy and medical law. In their final two years, students complete clinical rotations in areas such as internal medicine and surgery.
Residency, Licensure and Certification
Only after completing medical school can students truly begin to focus on the practice of endocrinology. Graduates can undertake a residency program in their particular specialty, which lasts from three to eight years. Graduates who wish to become practicing physicians must take a national standardized licensing test and meet other requirements set by their specific state. Individuals can become certified in endocrinology, diabetes and metabolism through the American Board of Internal Medicine after first becoming certified in internal medicine.
Photo Credits
Dean Golja/Photodisc/Getty Images