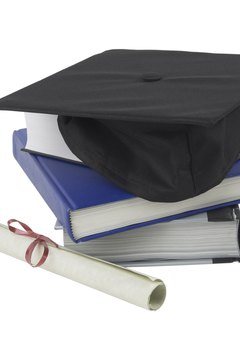 Many pscyh departments require that applicants take the GRE psychology subject test. (See Reference 12, p. 7)
Why do people do what they do? If you have a bachelor's degree in psychology, you probably have some idea. However, if you really want insight, consider getting a doctorate. No matter which school you attend, doctoral programs for psychology have very similar formats.
Types of Programs
When considering a doctorate in psychology, you must decide if you want a doctor of philosophy -- Ph.D. -- or doctor of psychology -- Psy.D. -- degree. Ph.D. programs prepare students to be researchers and professors in university, government and business settings. The Psy.D. focuses on helping patients in a clinical setting. Professionals who are doctors of psychology work in mental health clinics, mental institutions and private therapy practices. You also need to determine your field of interest. Psychology is divided into many fields, such as Developmental, Clinical, Social, Personality, Cognitive, Educational and Neuroscience.
Classes
Starting in the first year, you take graduate-level courses or seminars in your field, such as biological psychology, social psychology or cognitive development. The psychology department offers required and elective courses, though you may find it helpful to take a class in another department. Statistics and research methods courses are essential to doctoral programs. You also begin learning about the research process, from formulating an idea to presenting your work.
Research and Clinical Work
Psychology doctoral programs have a scientific focus, and they require students to produce original research. Many work on professors' projects, as well. You learn how to gather background information, write proposals, collect and analyze data and discuss results. If you're getting a Psy.D., research is less important. Both Psy.D. and Ph.D. programs include a strong clinical component. Students learn about testing, counseling, therapy and treatment options at in-patient and out-patient facilities, such as medical centers, counseling practices, children's facilities and community mental health centers.
Qualifying Exam
Before students are officially accepted into doctoral programs, they must pass a qualifying, comprehensive, preliminary or candidacy exam. Usually taken two or three years after beginning classes, this is the gateway to the dissertation. The exam can take several forms. It could be a paper on a topic of interest followed by an oral exam. It may be a written test on general psychology as well as specifics in the student's area of concentration. Another format is a multiple choice or essay exam based on coursework. After this is graded, faculty members hold an oral exam where they ask the student about the exam and any other relevant topics.
Dissertation
After submitting a portfolio of your best work from the past few years, you are ready to begin your dissertation. This is a multi-year process. During this time you focus on your dissertation, though you may also take few classes, do other research projects or teach. You choose a committee of three or four faculty members who guide you. The first step is creating a proposal that indicates what you want to study, what is already known about the topic and how you want to explore it. Once the proposal is accepted by your committee, you carry out the experiment and write it up. Many revisions are needed along the way. Finally, the completed dissertation is given to your committee, and you defend it orally by answering their questions.
Photo Credits
PhotoObjects.net/PhotoObjects.net/Getty Images