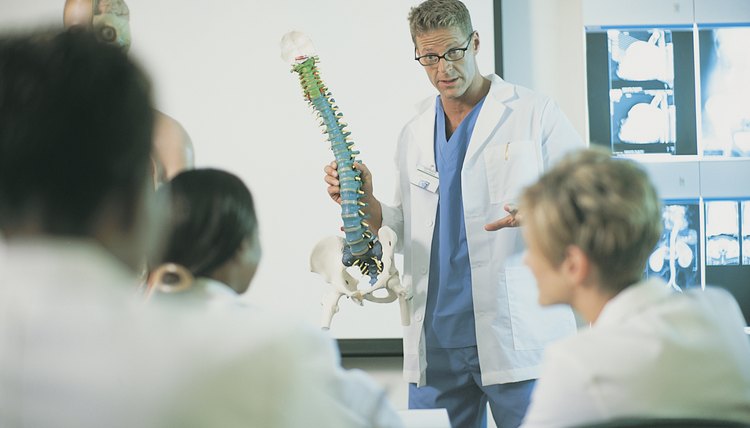 Use college as a tool that prepares you for medical school.
A pediatric emergency physician is an individual who specializes in treating young patients who need immediate medical attention. To be accepted into a medical school, you'll need to pass the prerequisite classes that prepare you for the Medical College Admission Test, or MCAT. Because each educational institute is different, check with the medical schools of your choice that offer a pediatric emergency medicine specialization to learn exactly what classes you need in college to become a pediatric ER doctor.
Chemistry
Depending on the medical school that you choose, you may need to take up to two years of chemistry and inorganic chemistry classes and their accompanying labs. These classes teach you about chemical reactions, biochemistry and atomic structures. Advanced chemistry classes that you may have to pass to prepare for the MCAT are those that cover topics like nutrition, organic chemistry and structural biochemistry.
Biology
Biology classes teach you about the life cycle of organisms. You may have to take up to two years of biology classes and their labs to gain an understanding of genetics, physiology, developmental biology and cellular biology. In the more advanced classes, you'll examine topics like anatomy, kinesiology, diseases and the body's systems.
Math
As a pediatric emergency physician, you may have to figure out the correct dose of medicine to administer to a patient based on the patient's weight and age without a written guide or calculator. It's common for a medical school to list calculus classes as an admission prerequisite because this type of math helps you gain problem-solving skills and perform difficult math problems. Knowledge of calculus will also help you learn to interpret data that you may see in diagnostic test results or medical literature.
Psychology
As the human body develops, so does the mind. Psychology classes in college, like developmental psychology, help you gain an understanding about the changes that occur in the brain at different stages of life. This knowledge can help you relate to young patients better, respond appropriately to traumatic injuries or incidents that you may witness in an emergency room, and learn to deal with anxious and emotional parents.
Writing
As a doctor, you must record copious notes regarding a patient's physical and emotional states and the treatments that you provided. The writing classes that you take in college teach you to write in a clear, logical and accurate manner. In a technical writing class, you'll learn how to record all the necessary facts in a subjective way.
Photo Credits
Comstock/Comstock/Getty Images