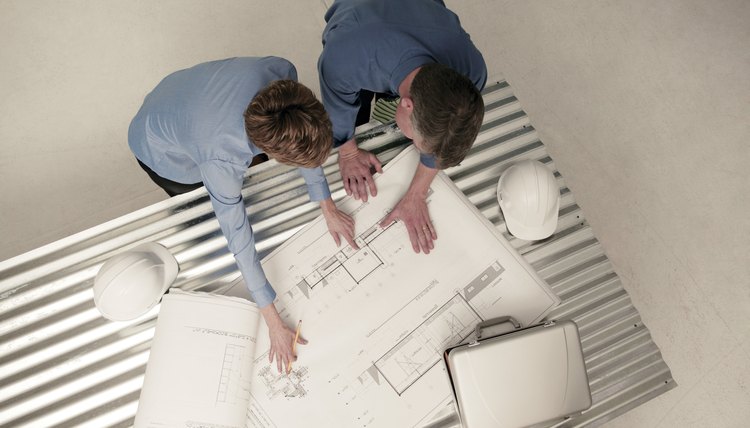 Interior designers work with architects and decorators to create practical and attractive spaces.
While many people enjoy the creative act of arranging their homes, few know that interior designers are licensed professionals who have earned either a bachelor's or master's degree from accredited fine arts schools. Interior design programs focus on design theory and space fabrication, and allow students to specialize in particular areas of interest. The best interior design programs are offered at schools with established reputations and high standards in the fine arts.
Pratt Institute
The Pratt Institute in New York City received the honor of "U.S. News and World Report's" top ranking among national interior design programs. With both undergraduate and graduate offerings in the subject, Pratt has established itself as an industry leader in the education of top-notch interior designers. The Bachelor of Fine Arts in Interior Design program focuses on the architectural elements of the discipline as well as all aspects of proportions, light sources and configuration. The Master of Science in Interior Design trains students to create original interior spaces and fosters advanced skills in decoration.
California College of the Arts
As the number two selection in the "U.S. News and World Report" rankings of interior design programs, California College of the Arts in San Francisco encourages original thinking and develops skills in cutting-edge technology. With both B.F.A. and M.F.A. offerings for interior design students, CCASF presents an excellent choice for both undergraduate and continued education. Students in this program learn how to develop their ideas through digital renderings and study models toward the creation of full-scale installations. This interior design program also gives students professional experience through collaborations with institutions like the Dolores Shelter Program and the Sierra Club.
Ohio State University
The Department of Design at Ohio State University received the number three ranking from "U.S. News and World Report" in its 2012 analysis of interior design programs. Ohio State offers a Bachelor of Science in Interior Design and Master of Fine Arts in Design Research and Development. Interior design studies focus on the skills necessary to develop practical and artistic spaces for commercial, retail and industrial entities. Graduate students immerse themselves in the academic study of design theory and contribute to research on the developing margins of the field.
The School of the Art Institute of Chicago
As the fourth-best school in the "U.S. News and World Report" rankings, SAIC offers interior design education under the guise of its interior architecture program. Undergraduates in this program can pursue the Bachelor of Interior Architecture, a four-year study of the history of human habitation that encourages the generation of new and vital spaces. The Master of Architecture with an Emphasis in Interior Architecture requires a 3 1/2 year commitment. Students in this program not only develop their interior design sensibilities, but also acquire the skills of a professional architect. With course work that revolves around design theory, students also spend a substantial amount of time on studio projects.
Photo Credits
Comstock/Comstock/Getty Images