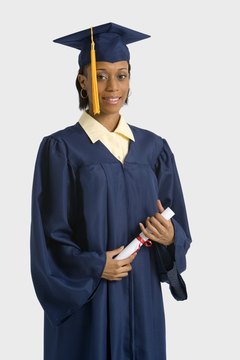 A college career can help you earn a higher salary.
A college degree can be very helpful for employees looking for work or career advancement. According to the U.S. Census Bureau in 2011, about 30 percent of U.S. adults hold a bachelor's degree or higher. The Lumina Foundation reports that another 23 million graduates will be needed by the year 2025. Therefore, the need for college graduates is climbing, but the number of people with this educational attainment is still low. These estimates might help provide motivation to finish your degree.
Focus
Motivation to finish college begins with identifying the reasons why you want to earn your degree. Think about why you want to graduate and what benefits await you. Talk with your supervisor to discuss what your college graduation means for your career. Also, consider what your dream job is and determine what educational qualifications you need for that position. Then write this information down and display it throughout your home, car and office. Focusing on the rewards will help keep you motivated and on track to complete your goal.
Pay Raise
When you speak with your work supervisor, find out whether earning your college degree will qualify you for a pay raise. Because you obviously would like to make more money for doing the job you already perform, this information is very important. A 2012 report by the U.S. Census Bureau concluded that there is a strong correlation between educational attainment and increased salary. College graduates earn about 60 percent more than high school graduates, according to a 2012 MSN Money article. Keep this information in mind when you are having a bad day in school so that you can stay motivated.
Promotion
Finishing your college degree communicates several positives to your employer. First, a college degree shows you can make and follow through on a long-term commitment. Second, graduating shows your supervisor you are serious about your career. Lastly, it also shows you have the ability to learn and think critically. All of these factors are important to employers and can make you an attractive candidate when promotions become available at the office.
Reinforcement
College isn't easy, so when you do have a down day, it is vital for you to have supportive people around you. Communicate to close family and friends why you want to earn your degree and how accomplishing this goal will help you. Ask them to help keep you accountable during tough times and encourage you throughout your entire college process. This positive reinforcement will maintain your motivation because you most likely won't want to disappoint those you care about.
Photo Credits
Jupiterimages/Creatas/Getty Images