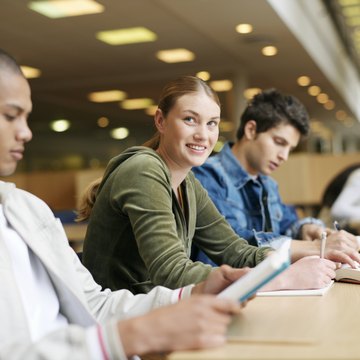 Chemical engineering students might select a minor that complements career goals.
While there are a wide variety of suitable minors chemical engineering students might choose, individual career goals and personal interests will determine the best fit for each student. The University of Delaware states most minors generally require approximately five to seven courses to complete, so some students might minor in another related field with some of the same course requirements as chemical engineering. Others might choose the option they feel will best improve their marketability.
Business Minors
A minor in a business subfield such as economics or finance gives students' resumes depth and broadens their understanding of the business side of chemical engineering, Cornell University says. A business minor is a good option for all engineering students because it helps them analyze financial decisions and can raise their job prospects, according to George Mason University.
Mechanical Engineering Minor
A mechanical engineering minor is a logical choice for chemical engineering students because both subjects often share many of the same courses. A minor may likely be obtained by adding only a few additional courses. The University of Nebraska-Lincoln suggests mechanical engineering among their list of approved minors for chemical engineering majors. The field introduces a number of theories applicable to chemical engineering, such as thermodynamics, probability, velocity, buoyancy and stability, the University of Colorado Colorado Springs states.
Computer Science or Technology Minor
The University of California Davis recommends a minor in technology management for chemical engineering majors interested in developing their computer science background and overall technology expertise. A computer science minor, meanwhile, combines engineering, mathematics and programming skills. Students benefit from learning computer programming skills potentially needed for chemical engineering projects and will be better suited for a wide variety of jobs.
Materials Science Minor
UC Davis recommends chemical engineering students minor in materials science to give them a thorough education in chemical engineering materials. The interdisciplinary minor gives chemical engineers a basic introduction to science and engineering properties by focusing on subjects such as phase transformations, biomaterials, tissue engineering, electronic materials processing and inorganic chemistry, the University of Delaware states.
Photo Credits
Stockbyte/Stockbyte/Getty Images