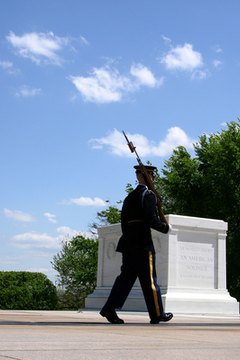 A Military Honor Guard member performs many duties.
A position on a military Honor Guard is highly-sought after by most military members. Military Honor Guard members have many opportunities that are not afforded to other military members. However, Honor Guard service entails hours of training on many subjects.
Drill and Ceremony
When military Honor Guard members are not performing at events, they spend their entire duty day training on drill and ceremonies. This training includes marching and weapons handling.
Special Events Training
Military Honor Guard members perform in a variety of special events. These events include parades, ceremonies, funerals and drill and ceremony competitions. Each event presents special challenges, and Honor Guard members are trained in every scenario.
General Military Training
All Honor Guard members receive the same basic military skills training that all military members receive. This training includes weapons proficiency, physical fitness and wartime skills.
Photo Credits
Tomb of the Unknown Soldier, Arlington National Cemetery USA image by p_gangler from Fotolia.com