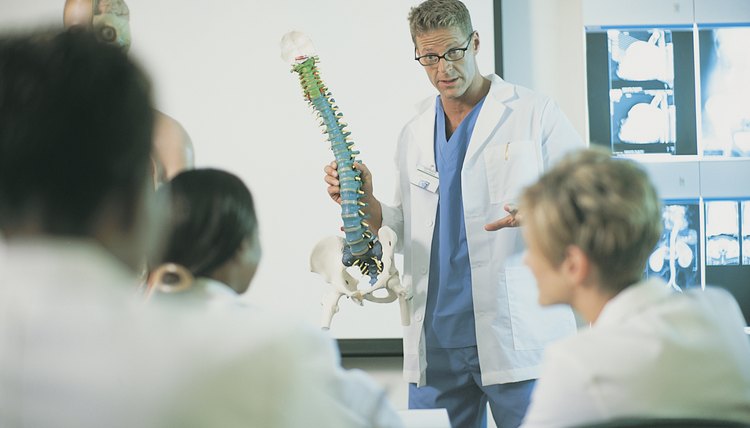 Some early admissions programs enable undergraduates to begin their medical studies while completing their bachelor's.
While most students spend their undergraduate years considering the possibility of a future Medical Doctor degree, others enter college sure that a medical career is in their future. Luckily for these students, many colleges and universities offer early admissions policies for their medical schools, sometimes known as "early assurance." These policies apply to students ranging from high school seniors to undergraduate juniors, but all allow students to avoid the arduous normal admissions process association with med school.
High School Early Assurance
The most eager students -- those who know they want to be doctors while they are in high school -- have a wide variety of options available. At Brown University, for example, students in high school can apply for the Program in Liberal Medical Education, which is an eight-year combined Bachelor's/M.D. degree. Admission to the program is highly competitive, with only about 50 students gaining admission each year. Many other schools offer programs similar to Brown's. These include programs at the Washington University in St. Louis, Baylor University and Northwestern.
Undergraduate Early Assurance
Some medical schools are hesitant to admit students directly from high school, so instead they admit a select group of students during their undergraduate years. Sometimes, schools will form partnerships for such programs. For example, the University of Maryland partners with George Washington University Medical School so that some of its distinguished sophomore students can be accepted to GWU during their sophomore year. Though programs vary widely, they often use SAT or ACT scores in place of the MCAT to determine admission. This is the case at the University of Toledo, which accepts undergraduates of junior standing for its MEDState program.
Fast-Track Admissions
Fast-track admissions options exist for the most eager of potential medical students. These programs are similar to high school early acceptance programs, with one key difference: They reduce the total amount of time needed to study for both an undergraduate and medical degree. These programs also vary widely, but they can be as short as six years in total. This is the case at the University of Missouri, Kansas City, where a small group of high school students are selected to complete a rigorous B.A./M.D. program in only six years. More commonly, fast-track programs are seven years, as is the case at the University of Kentucky, the University of Nevada and the University of Florida.
Early Decision Programs
For senior undergraduate students who are sure they want to go to medical school, but don't want to endure the lengthy application and waiting process, early decision programs are a good option. These programs are similar to undergraduate early decision, where a student applies to a single school and agrees to attend that school if accepted. Usually, all normal admissions criteria apply -- including the MCAT -- but students can apply earlier and therefore receive a decision earlier. In addition, they only need to apply to a single school, which lessens the burden of application materials. This is the case with Yale University's Medical School, which offers students an admission decision by October 1st.
Photo Credits
Comstock/Stockbyte/Getty Images