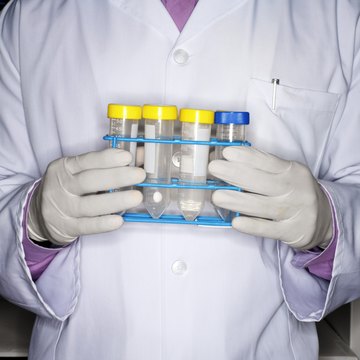 Though few math classes are required, many courses associated with a laboratory technician's education include math components.
The path to becoming a laboratory technician, an individual trained to collect and analyze a variety of medical samples either in labs or in health-care facilities, can begin with an associate degree in the field. Consisting of approximately 60 credits of coursework, a laboratory technician degree requires credits in math as well as credits in areas that draw on your math knowledge, including specialized medical courses, general science courses and clinical fieldwork.
Math Class Requirements
Most laboratory technician degree programs mandate three to four credits of intermediate or college algebra. These classes cover a wide range of algebraic concepts, including linear and quadratic equations, functions, graphing and calculator applications. Some programs can waive this requirement provided you demonstrate adequate performance on a math placement exam.
Medical Class Requirements
Many of the medically oriented courses included in the laboratory technician degree also demand some knowledge of math. Courses in hematology or immunology, for example, both requisite across laboratory technician curricula, require you to be able to analyze and interpret a wide range of data, from immunological testing to blood cell counts, many of which incorporate a math-based component.
Science Class Requirements
Laboratory technician training also requires classwork in clinical microbiology and chemistry. You can expect to take roughly five to ten credits of clinical microbiology coursework, wherein you can develop your knowledge of microorganisms, including how to identify them and work with them within a laboratory setting. In addition, you will take approximately another five to ten credits in clinical chemistry, during which you will learn about the chemistry instruments and testing inherent to a clinical setting.
Clinical Practicum and Comprehensive Exam Requirement
The culmination of your laboratory technician degree training is participation in anywhere from 10 to 30 credits of experiential practica within clinical settings. These positions allow you to apply and expand upon the techniques and practices you learned in the classroom while also offering you on-the-job exposure to the procedures and protocols used by professional laboratory technicians. Some programs also require you to pass a comprehensive exam within your final semester of coursework. These exams assess your skill and abilities as a laboratory technician, including your mathematics proficiency.
Photo Credits
George Doyle/Stockbyte/Getty Images