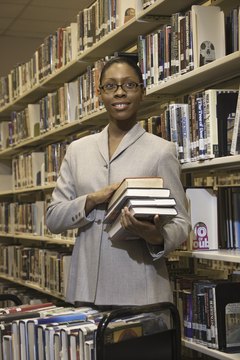 NCCU is the state's only historically black college offering an MLS program.
A master's degree in library science is a necessary prerequisite for many professional librarian positions, and also provides a set of skills that transfer to information management positions outside the scope of traditional librarianship. While library science degree holders frequently work in public and school libraries, others are employed in such areas as research, archive management and records management. North Carolina has five universities offering master's degrees in library and information science, with programs that range from a school library track to concentrations in law librarianship and database design.
Appalachian State University
Appalachian State University's library science program offers the Master of Library Science degree with both a public and school library track through its Cratis D. Williams Graduate School. Both tracks require 39 credit hours, and can lead, respectively, to either North Carolina public librarian certification or North Carolina Media Coordinator K-12 school librarian licensure. Either the Graduate Record Examinations or Miller Analogies Test are required for admissions into the program, and coursework is offered entirely online.
East Carolina University
East Carolina University's College of Education administers a library science program that grants the MLS degree. This 39-hour program has three tracks: public library, academic library, which prepares students for careers in university and community college settings, and school library media, which can lead to licensure as a Pre K-12 Media Coordinator. All MLS graduates are eligible for North Carolina public library certification. East Carolina's program is recognized by both the National Council for Accreditation of Teacher Education and the American Association of School Librarians, and is a candidate for accreditation by the American Library Association.
North Carolina Central University
North Carolina Central University's School of Library and Information Science oversees its MLS program. This 36-hour program is accredited by the American Library Association, and has seven course concentrations: academic librarian, archives and records manager, digital librarianship, law librarian, public librarian, school media coordinator and special librarian. Students in the library science program will need to demonstrate proficiency in a foreign language, computer language, sign language or statistics. This can be achieved through completing six credit hours in one of these areas at either the undergraduate or graduate level, through passing an examination in French, German, or Spanish administered by the university's Modern Foreign Language Department or by holding current IT certification.
The University of North Carolina at Chapel Hill
The degree offered by the University of North Carolina at Chapel Hill's School of Information and Library Science is a Master of Science in Library Science. This two-year program is ALA-accredited, and features nine specializations: archives and records management, database design and development, digital humanities, digital libraries, human-computer interaction, information retrieval, information system design and development, organization of information and materials and special libraries and knowledge management. Due to the highly technical nature of this degree program, all entering students must either pass an information technology test or enroll in an information technology course during the first semester that will not count toward the 48 credits needed to graduate.
The University of North Carolina at Greensboro
The Master of Library and Information Studies is the only degree offered by the University of North Carolina at Greensboro School of Education's Department of Library and Information Studies. This ALA-accredited 36-hour program allows for specialization in academic, public, school or special librarianship. All graduates will qualify for North Carolina public library certification, and students pursuing the NCATE-recognized library media specialist track can apply for school library media coordinator, school media supervisor or instructional technology specialist licensure.
Photo Credits
Thinkstock/Stockbyte/Getty Images