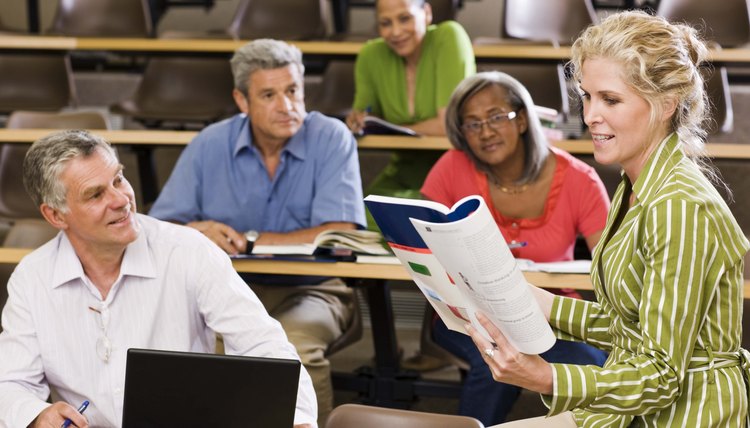 A degree in social justice can prepare you for a wide variety of careers.
If you're passionate about improving life in your community, a master's degree in social justice could be an ideal choice. At some schools, social justice is an area of concentration within another degree, such as education or sociology, while at others you can pursue a program dedicated specifically to social justice issues.
Potential Careers
A master's degree in social justice can be a stepping stone to a Ph.D. in a related field such as social work or sociology. But it can also provide you with the knowledge of social issues you'll need to excel in a variety of fields, such as working with a nonprofit, advocacy for oppressed groups, teaching and even management. Because social issues affect every area of life, your training in social justice could make you a better business owner, co-worker or educator.
Courses
The specific courses you'll take depend on the school you choose. Generally speaking, you'll take courses in history, politics and sociology. For example, at Arizona State University, students must take classes in research methods and grant writing in social justice and human rights. At Loyola University Chicago, by contrast, core classes include courses in foundations of social justice, diversity and equity and historical dimensions of community development.
Programs
You'll have several program options when pursuing your master's degree. At schools such as Loyola University Chicago, a master's in social justice is a pastoral degree designed to prepare you for ministry. At other schools, social justice is a concentration within a larger program. For example, students at San Francisco State University can concentrate in social justice as part of an education degree. Some schools, such as Arizona State University, offer standalone degrees in social justice, and you can choose to concentrate on a specific area of social justice.
Choosing a School
Social justice is a relatively new academic field, so programs vary significantly. You'll need to carefully review the curriculum at the schools you're considering, and may want to sit in on a class or meet with a few professors. Be sure to ask what students do after graduation and ask about internship placements and research opportunities. Although there are only a handful of social justice master's degree programs, the Association for the Advancement of Sustainability in Higher Education publishes an exhaustive list of programs dedicated to social justice, human rights and similar fields.
Photo Credits
Jupiterimages/BananaStock/Getty Images