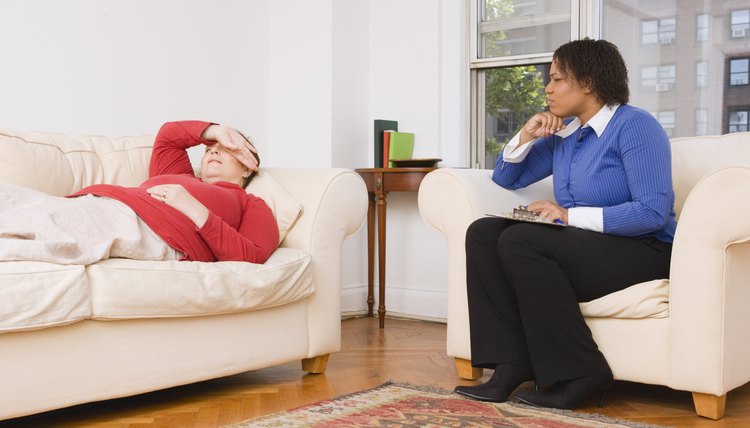 A psychologist earns a median salary of over $68,000 per year.
Psychologists are mental health professionals who study human behavior and identify, diagnose and treat mental, behavioral and emotional disorders within a range of specialties. Specialties sometimes have different educational requirements. In most cases, a master's degree in psychology is required to practice in the field. A four-year bachelor's degree must be completed first; while it's not necessary to major in psychology as an undergraduate, most graduate programs require at least 12 undergraduate credit hours in psychology.
Part-Time Study
Many people choose to acquire their master's degrees in psychology on a part-time basis. If this is the case, the time spent completing the degree can vary greatly. However, some schools do have a time limit for completing the degree. For example, New York University requires that the degree be completed in no more than five years. The amount of time it should take a person to complete a degree on a part-time basis varies, but a minimum of three years is expected since most programs are at least 36 credit hours in length. Part-time graduate students usually take less than nine credit hours at a time in a traditional semester environment.
Full-Time Study
The majority of students who work on their master's degrees in psychology on a full-time basis are able to complete their degrees in approximately two to three years. It will vary depending on the university attended, as some master's degree programs require more credit hours than others. For example, the master's degree in general psychology at New York University requires 36 credit hours to graduate. So taking nine credit hours in the fall and spring semesters would enable the student to graduate in two years.
Specialist Degree
The National Association of School Psychologists recommends the specialist level degree as the minimum acceptable level of education for practicing school psychologists. This specialist degree is typically studied in combination with the master's degree. It is a 60-hour graduate program that also includes a 1,200-hour internship. For students interested in pursuing school psychology, the specialist program is required by most states' licensing bodies. The time to complete this program is usually three years for full-time students, and up to five or six years for part-time students.
Doctorate Degree
A doctorate degree in psychology, after the master's is completed, is typically a requirement for most clinical, counseling and research psychologists. Doctorates usually require an additional five to seven years of study plus additional practicums and internships as well as a dissertation.
Photo Credits
Creatas Images/Creatas/Getty Images