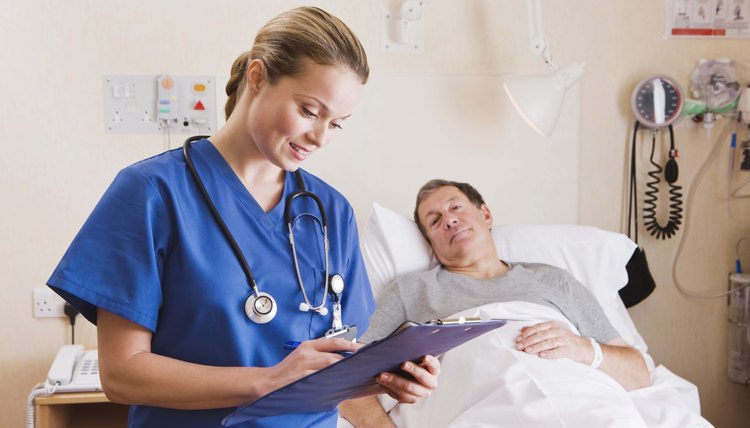 A bachelor's degree expands a nurse's options.
You can get a diploma or associate degree in registered nursing after two to three years of study, according to the U.S. Bureau of Labor Statistics. However, a Bachelor of Science in Nursing degree is necessary for supervisory positions and advanced clinical work. A traditional BSN program usually takes four years, similar to other bachelor's degrees. However, alternative and part-time BSN programs are also available.
Traditional BSN Programs
Classes and clinical work in traditional college and university BSN programs usually take four years of full-time study, according to the American Medical Association. The typical subjects include chemistry, physiology, microbiology, psychology, nutrition and nursing practice, plus classes in social sciences and humanities. Students do their clinical practice in public health agencies, clinics, nursing care facilities and hospitals, taking rotations in pediatrics, surgery and maternity, for example. A traditional four-year BSN degree at the University of Michigan requires 128 credit hours.
Second-Career Programs
Some colleges offer accelerated BSN programs for students who already have a bachelor's degree or higher. According to the AMA, these programs usually take between 12 and 18 months. At the University of Michigan, for example, those with another degree can earn a BSN in the second-career nursing program. This program begins in the fall and continues for three additional terms -- winter, summer and a second fall term. However the program requires numerous prerequisites such as English, psychology, anatomy and physiology, pharmacology and organic biochemistry. Applicants who lack the necessary courses must complete them before starting the program.
Bridge Programs
Some colleges and universities offer special BSN programs for students who already have a nursing diploma or an associate degree. Some of these programs are targeted at licensed practical or vocational nurses, who receive additional training in nursing management and general education. They qualify for RN licensing exams while earning their BSN at the same time. At West Coast University, for example, the BSN program for LPNs takes a little less than three years. Similar programs are available for RNs who originally qualified through diploma or associate degree programs. At Azusa Pacific University in California, for example, an RN can complete a BSN in 15 months.
Part-Time Options
Various part-time bachelor's degree options are available for nursing students with jobs or other outside responsibilities. At the Kramer School of Nursing of Oklahoma City University, most classes are available both spring and fall semesters, and many are offered in the summer. This gives nursing students the flexibility to complete a BSN part time at their own pace. Some colleges also offer part-time options for second-career BSN students. For example, the Rutgers School of Nursing offers a 30-month part-time program for students who already have another bachelor's degree.
Licensing
You must obtain a state nursing license before you can practice as an RN. After completing the BSN degree, graduates who don't already have the license must take and pass the national NCLEX-RN examination. Additional requirements, including a licensing fee, vary according to the state.
Photo Credits
Jupiterimages/Polka Dot/Getty Images