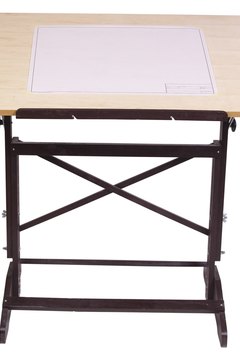 Architects spend a lot of time at a drafting desk.
Architects combine mathematical aptitude with artistic skill as they design buildings and structures of all sorts, so being an architect means a lot of studying. Generally, you'll need to study for four or five years to get a bachelor's degree in architecture.
What Do Architects Do?
Architects' job descriptions vary from one architect to the next. Their career trajectories depend on the size of the city that they work in, as well as the size of the firm that they work for. Large firms are typically based in large metropolitan areas, like New York, Chicago or Los Angeles, whereas small firms can be found in small towns, too. Prospective architects need to consider the tasks that they want to perform when they're done with school: design architects, production architects, principle or lead architects, and spec writers all focus on very different aspects of the field of architecture, for example. Specifying one area during study means you might take longer to complete your bachelor's degree because you'll take extra classes in your area of interest.
What is a Bachelor of Architecture Degree?
A Bachelor of Architecture degree is a four- or five-year program designed to prepare students to become professional architects. While every architecture program is different, they share many similarities. Accredited architecture programs give aspiring architects a good grounding in architectural theory as well as architectural practice. Typically, the theory comes before the practice -- students will usually learn about the history of architecture, for instance, before they're encouraged to create their own designs. By the end of their fourth or fifth year, students should be able to step confidently into professional practice and to take their licensing exams.
What Courses do Prospective Architects Take?
Architecture programs typically require students to take a certain amount of credits in general study courses (to improve their communication skills, for example), as well as an allotted number of credits in architecture and design courses. Most architecture programs will offer courses in subjects such as construction, architectural design theories, urban design theories, history of architecture, art history, building materials, design studio and comprehensive design studio. Later on in the program, students usually have the opportunity to specialize more in what specifically interests them.
Career Opportunities for Architects
To become a professional architect, even after completing a B.Arch. degree, you'll need to pass the Architect Registration Examination. But even that won't guarantee you success: some architects attain near celebrity status, while others can't find a job with a firm and have trouble making ends meet. The U.S. Bureau of Labor Statistics reports that architects will experience a 16 percent employment growth rate between 2008 and 2018. In 2010, the median pay for architects was $72,500. Architects often work for construction companies, own their own design firms or are employed by development companies.
2016 Salary Information for Architects
Architects earned a median annual salary of $76,930 in 2016, according to the U.S. Bureau of Labor Statistics. On the low end, architects earned a 25th percentile salary of $59,000, meaning 75 percent earned more than this amount. The 75th percentile salary is $99,790, meaning 25 percent earn more. In 2016, 128,800 people were employed in the U.S. as architects.
Photo Credits
Hemera Technologies/PhotoObjects.net/Getty Images