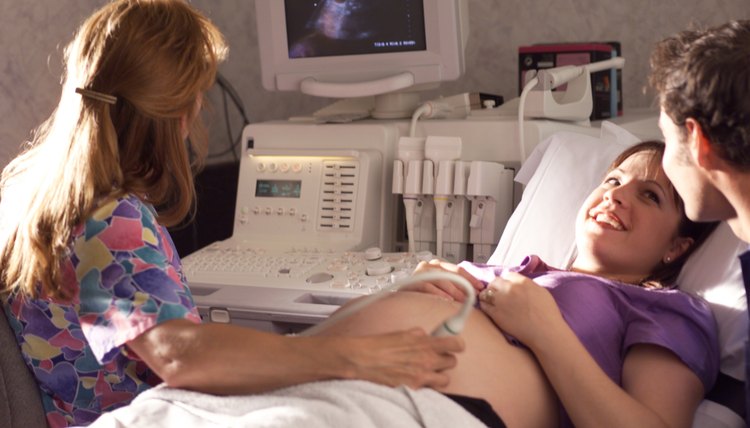 As an ultrasound technician, you may choose to specialize in obstetrics.
Ultrasound technicians, also known as sonographers, help doctors diagnose or rule out conditions through the use of imaging technology. To pursue a career as an ultrasound technician, you will need to attend college or trade school to gain the necessary training and education. Although each state may require slightly different coursework in ultrasound technology, most programs will have similar requirements. Knowing what this major entails will help you track your progress.
Courses
Before you enter an ultrasound program, you will most likely need to take prerequisite coursework. This may include medical terminology and human anatomy and physiology. You may also need advanced math classes and composition courses. The program courses will teach you how to use the technology, but you will also gain more in-depth knowledge of human anatomy as it relates to ultrasound. For example, you may have to take advanced anatomy courses specifically for the abdomen, the circulatory system and obstetrics. Also, you will gain hands-on experience in a clinical environment.
Specializations
When you decide to go into a career as an ultrasound technician, you may elect to follow a specialized course of study instead of general ultrasound study. If you have a particular interest in the field, you may choose vascular or echocardiography. Some schools may also offer specialized studies in obstetrics and gynecology. Your course of study will remain similar to general ultrasound, but your coursework and clinical experience will focus on your area of interest.
Certification
Once you complete your coursework and clinical studies, you can take the certification test. Many employers, particularly hospitals, will only hire certified ultrasound technicians. The testing dates and sites will vary by state, but your adviser can help you start this process.
Additional Requirements
Although an education will give you the knowledge you need to succeed as an ultrasound technician, you will also need other skills that are difficult to learn in a classroom. You will need to have the ability to treat patients with a professional, caring manner, despite difficulties that may arise. For example, you may encounter a violent patient or a patient with a critical diagnosis. Caring for their needs, as well as their families', becomes an important part of your day. Prior to entering an ultrasound program, you may want to volunteer in a hospital, clinic or other healthcare facility to see if this environment suits you.
Employment Outlook
The Bureau of Labor Statistics anticipates the need for ultrasound technicians to grow by 44 percent through 2020. This means, in pursuing this career, you may have a number of employment opportunities.
Photo Credits
Photodisc/Photodisc/Getty Images