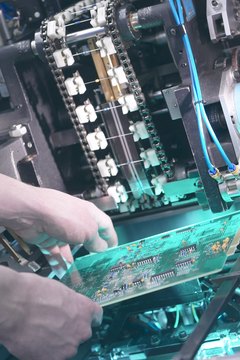 All levels of electrical engineering education involve extensive hands-on lab work.
Practicing electrical engineers are educated to three different degree levels in the U.S., and the amount of time you'll spend in school depends on which degree you're pursuing. While a bachelor's degree prepares you to take the professional licensing exam and work as a professional engineer, earning a master's or a Ph.D. in the field can increase your income and offer you a wider range of career options -- but they'll require a greater up-front investment of time.
Bachelor's Degree
The Bachelor of Science degree in electrical engineering is one of the more demanding undergraduate degrees in terms of required credit hours. While the standard for most bachelor's programs is 120 semester hours, the B.S. in electrical engineering often requires another semester of coursework beyond that. For example, Rice University's program mandates at least 134 credit hours, while at California State University Long Beach, students need at least 126 units. This course load affects program duration: While only 38 percent of engineering undergraduates finish their degree in four years at the University of California at Davis, 85 percent are done within five years. Students who want to graduate within four years should schedule their coursework carefully to determine that they have the prerequisites necessary to take required courses when they're offered.
Two-Year Master's Degree
Stand-alone master's programs in electrical engineering take about two years and require around 30 semester units, as does the program at San Jose State University. As many schools do, SJSU offers thesis and coursework-only options for the master's; students who plan to apply to doctoral programs typically choose to write a thesis, while those going directly into industry are more likely to focus solely on coursework.
Four Plus One Master's Degree
Another option for a master's degree is a "four plus one" program, such as the one at California Polytechnic State University. Electrical engineering undergraduates apply for the program during their junior or senior year. They begin completing the 45 quarter credits -- equal to 30 semester credits -- of master's coursework while still enrolled in the B.S. program, allowing them to finish the master's just one year after the bachelor's. The University of Delaware, among others, offers a similar program.
Doctoral Degree
Students who want to teach at a college or university or do high-level research go on to earn a Doctor of Philosophy degree in electrical engineering. These degrees are typically designed to take five years. The Ph.D. program at Stanford University is typical in requiring at least 135 quarter units of coursework -- the equivalent of 90 semester units. In addition to coursework, students work with an adviser to develop as independent researchers by designing and completing a dissertation project that answers a current question in their field.
Photo Credits
Hemera Technologies/AbleStock.com/Getty Images