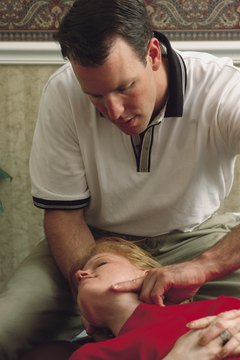 Chiropractors use manipulation to help prevent and treat health conditions.
Chiropractors focus on manually manipulating and adjusting the spine and other parts of the body to help prevent and treat pain and other conditions. To pursue a chiropractic career, you will need to earn a Doctor of Chiropractic degree. Programs offering this degree vary, often depending on state requirements and regulations. However, knowing the length of schooling required for the degree may help guide your career options.
Undergraduate
Some doctor of chiropractic programs will not require you to have an undergraduate degree prior to applying to the program. Certain states do require a degree, however. When you do not have a bachelor's degree, make sure that you qualify for admission to the program and that you will have the ability to practice in your state of choice. If you need an undergraduate degree for admission, this will take between three and four years for the average student.
Completing Prerequisites
If you do not need a bachelor's degree prior to admission, most programs still require you to have a certain number of course credits in particular subjects prior to applying to the program. You may need courses in biology, chemistry and anatomy. Some programs may also require you to take English and writing courses to ensure you have the skills needed for your advanced studies. Though the number of credits required may vary, you can anticipate completing these prerequisites in one to two years, depending on the number of credits you take each semester and the total requirements for the program.
Doctorate
With your prerequisites complete, a Doctor of Chiropractic degree will take four years of full-time study. If you have graduate-level coursework or have a professional license in another field, some programs will apply credits toward your degree. The credits applied could reduce the amount of time you spend earning your doctor of chiropractic degree.
Post-Graduate Residencies
After you complete your Doctor of Chiropractic degree, you may decide to specialize in a particular area, such as sports medicine. If you choose this direction, you may opt to complete a post-graduate residency program focused on your area of interest. These residencies typically take three years, to complete focused training and education.
Photo Credits
Photodisc/Photodisc/Getty Images