Caribbean beaches are known for their white sand.
The majority of Caribbean countries have English as an official language due to the British colonial influence in the region. While English may be the official language of British territories, U.S. territories and several English-speaking Caribbean nations, the majority of the people living on the islands speak an English creole. Creole languages tend to vary in sound, structure and usage and may not always be easily understood by a native English speaker.
Antigua & Barbuda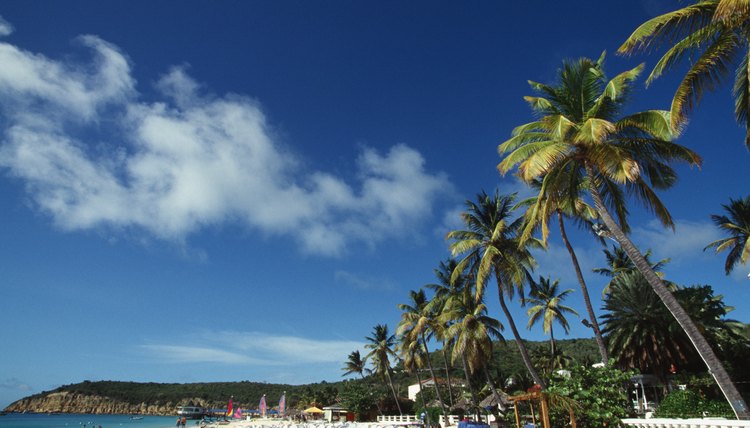 View in Antigua
Two islands with a combined population of over 85,000 in 2009, Antingua and Barbuda are part of the Eastern Caribbean or Leeward Islands group. While English is the official language, most locals speak Antiguan and Barbudan English Creole.
Bahamas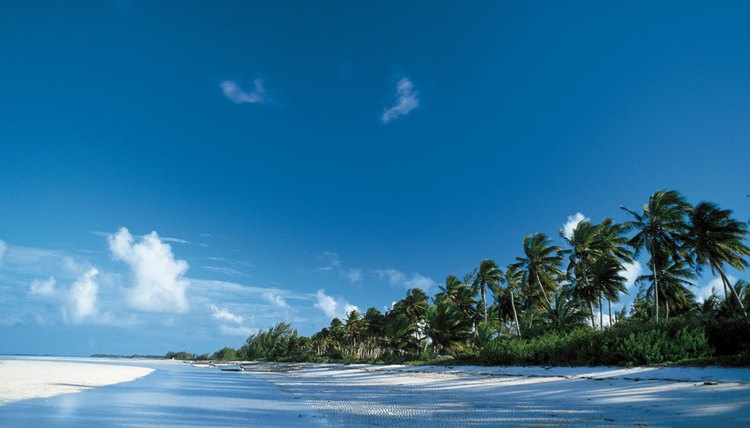 Beach in the Bahamas
The Bahamas archipelago is one of the closest and most accessible Caribbean countries to the United States. Spread throughout the 29 islands are over 300,000 Bahamians, most of whom speak Bahamas English Creole. According to the Ethnologue, about 49,000 Bahamians speak standard English as well. The official language of the country is English.
Dominica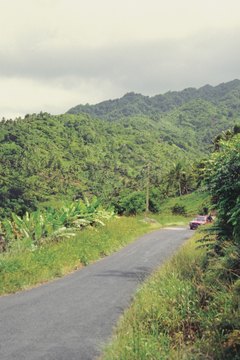 Dominica
Also part of the Leeward Islands, Dominica had a population of over 72,000 in 2009. Although the country's official language is English, only about 10,000 people speak standard English. The remainder speak Dominican English Creole or Dominican French Creole. A combination of French and English would do a traveler well on a visit to Dominica.
Jamaica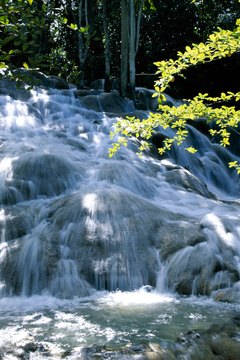 Jamaica
One of the larger English speaking islands in the Caribbean, Jamaica had over 2.8 million nationals as of 2009. Virtually all of the population speaks Jamaican English Creole, although some minority communities also speak Arabic, Hindustani, Portuguese, Spanish and Chinese. English is the island nation's official language.
St. Kitts & Nevis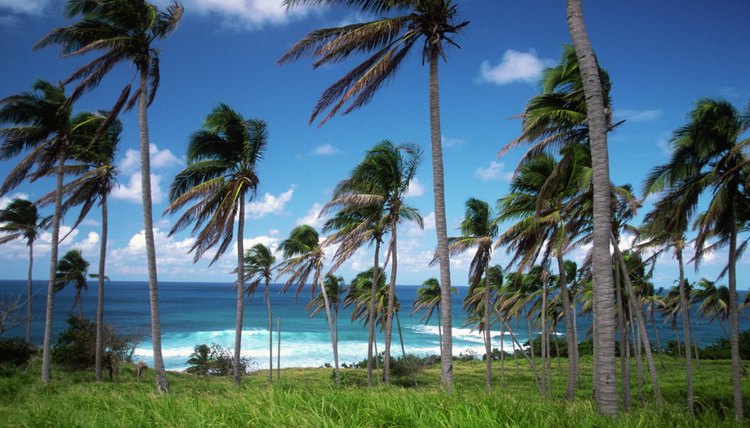 St. Kitts
St. Kitts and Nevis are set in the Eastern Caribbean (Leeward Islands) and also have English as an official language. Locals speak Saint Kitts English Creole, and only a few hundred people speak standard English. These two islands are mid-size in population with about 40,000 residents in 2009.
St. Vincent & the Grenadines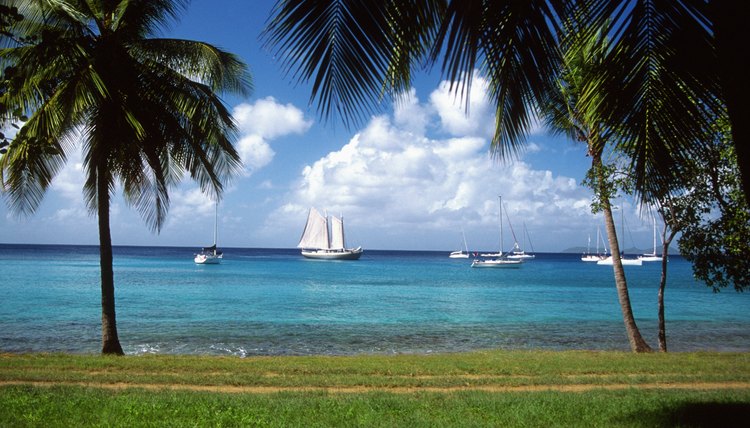 Grenadines islands
As with the other English-speaking Caribbean nations, St. Vincent and the Grenadines have English as their official language and the majority of the population speaks a Creole version: St. Vincentian English Creole. Only a few hundred residents speak non-Creole English.
Trinidad and Tobago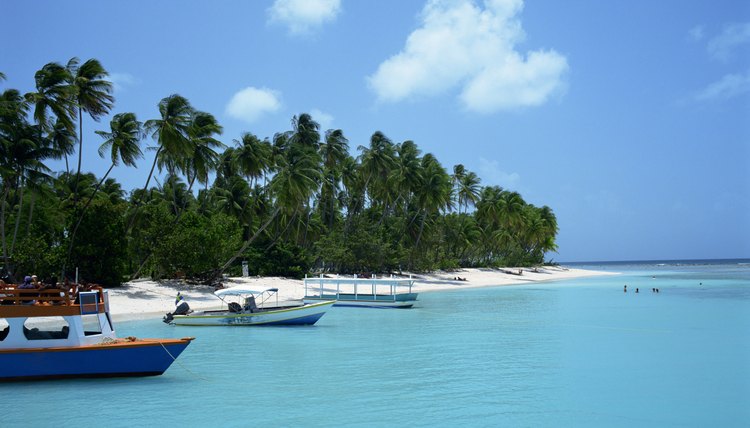 Coast of Tobago
While these two islands are combined as one country, each island speaks its own version of Caribbean Creole. In Trinidad, you will find both English and French-based creole languages. Minority populations also speak Hindustani and French. English is the country's official language.
British Overseas Territories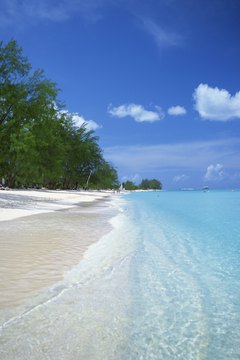 British Overseas Territories
In addition to these Caribbean countries, the islands that are British overseas territories also speak English or English creoles. These islands include: Anguila, the British Virgin Islands, the Cayman Islands, the Falkland Islands, Montserrat and Turks and Caicos.
U.S. Virgin Islands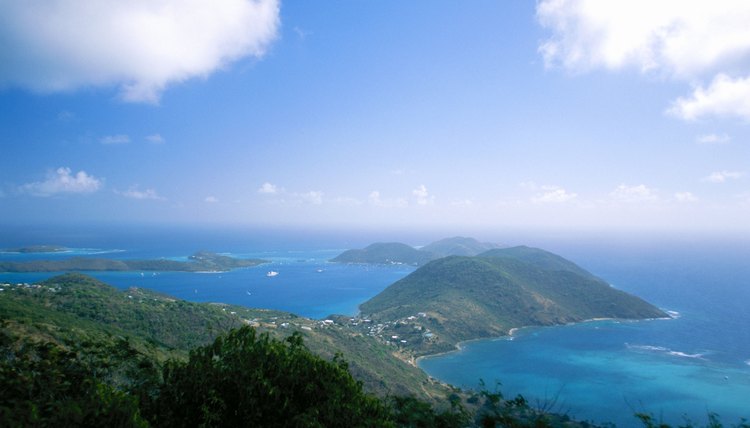 U.S. Virgin Islands
Made up of 50 smaller islands plus the three larger islands of St. John, St. Croix and St. Thomas, the U.S. Virgin Islands are a U.S. territory. Virgin Islands Creole English is spoken throughout the islands, although dialect differs from one island to the next.
Photo Credits
Digital Vision./Digital Vision/Getty Images