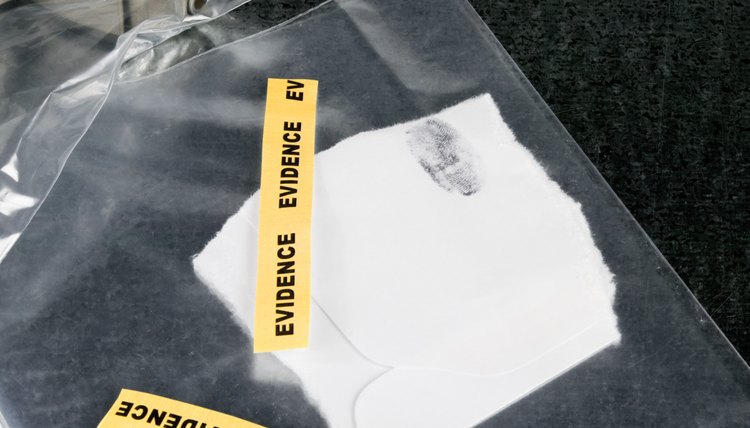 Forensic science programs teach students how to examine crime scene evidence.
Forensic science requires a broad range of workers, from forensic anthropologists who interpret skeletal remains to learn about a crime victim to computer forensic investigators who recover deleted files and search electronic records for evidence of wrongdoing. For specialized preparation in the field, forensic science training is available at colleges and universities throughout the state of Massachusetts, ranging from one-year certificate programs to graduate-level studies.
Certificate in Forensics
Holyoke Community College offers a certificate program that covers the collection, preservation and processing of evidence using different techniques. It is recommended for current law enforcement professional and those hoping to get into the field. Northern Essex Community College, Bunker Hill Community College and Middlesex Community College all have computer forensics certificate programs. These colleges will teach you how to access, recover and analyze digital data from computer hard drives and mobile devices, and to present such evidence in court.
Associate's Degree in Forensics
Both Bunker Hill Community College and Middlesex Community College also offer two-year degree programs in computer forensics in addition to one-year certificate programs. These programs will allow you further experience and training in digital investigation, including how it is governed by applicable laws and regulations. With completion of either program, you earn the necessary general education credits for the associate in science degree, which can be a stepping stone to entry-level work in law enforcement or further education at the four-year level.
Bachelor's Degree in Forensics
Mount Ida College offers an applied forensic science bachelor's program, which includes learning such procedures as crime scene analysis and reconstruction and evidence handling. You'll also acquire forensic knowledge on the job, as you complete a professional internship at a Boston crime lab. At Anna Maria College, forensic science is offered as a minor that can be taken in conjunction with a criminal studies major. Criminal justice elective courses also may include forensic studies such as crime scene forensics, forensic photography and forensic psychology. Becker College offers a bachelor of science degree in criminal justice with a forensic science/crime scene processing concentration. Coursework includes learning about different imaging methods, techniques for evidence collection and preservation, and background work in understanding criminals and victims. Bay Path College, a school for women, has an interdisciplinary forensic science program that involves chemistry, biology, psychology, legal studies and criminal justice. One highlight of this program is a mock crime scene scenario, where you will have the chance to investigate and then present your findings to a group of professionals in the criminal justice and forensics fields.
Master's Degree in Forensics
Bay Path College also offers a master of science in forensics. This program features crime scene reconstructions and real-life simulations, along with the opportunity to observe real-world forensic investigations. Boston University has two master of science programs in forensics: one in biomedical forensic sciences and one in forensic anthropology. The biomedical program has been accredited by the American Academy of Forensic Sciences Forensic Science Education Programs Accreditation Commission and qualifies you for professional work as a forensic scientist, death investigator, crime scene responder or DNA analyst. The forensic anthropology track trains you in the biological and skeletal anthropology techniques used for death investigation. Upon completion of the program, you are qualified to work as a forensic anthropologist, helping to identify human remains and establish the means of death.
Photo Credits
Jupiterimages/liquidlibrary/Getty Images