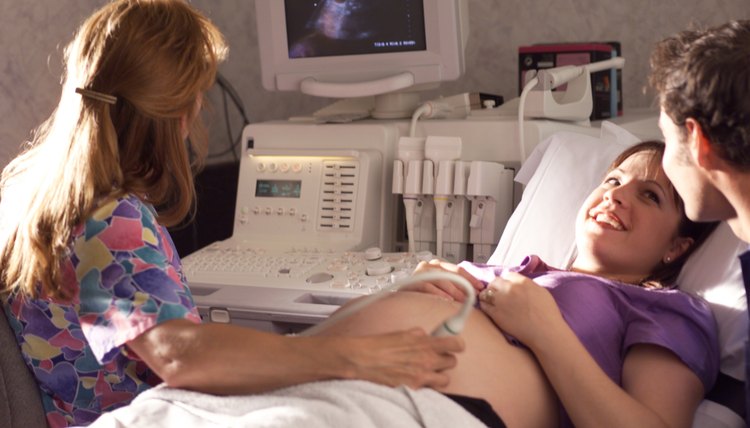 Diagnostic medical sonographers perform prenatal ultrasounds for expecting parents.
Diagnostic medical sonographers use sound-wave-based imaging equipment on patients. These procedures, commonly known as ultrasound, sonogram or echocardiogram, assess and diagnose various medical conditions. Diagnostic medical sonographers work in imaging clinics, physicians' offices and hospitals and these positions will be increasing at a faster than average rate from 2010 to 2020, according to the United States Department of Labor. Formal education is required for diagnostic medical sonographers.
Southern States
Students at El Centro College in Texas earn an Associate of Applied Science degree in diagnostic medical sonography. Enrollment is limited based on available space at clinical agencies for students to the Lamar Institute of Technology's associate degree in diagnostic medical sonography.. For both programs, students already possessing an associate degree in another allied health discipline may earn an advanced technical certificate in sonography. Vanderbilt University Medical Center in Tennessee has a diagnostic medical sonography program with class sizes of five students as well as research opportunities. Students who complete these programs are eligible to take the American Registry of Diagnostic Medical Sonography medical board exams in abdomen and obstetrics and gynecology.
Eastern States
Eastern International College in New Jersey provides a diagnostic medical sonography associate degree. The 65-semester credit program includes 20 credits in general education and 45 credits in vocational education and program major coursework in two major components: the theory, didactic and laboratory component and the clinical externship. New York Methodist Hospital offers a two-year certificate program in diagnostic medical sonography. New York Methodist Hospital has agreements with St. Francis College in New York and Clarion University of Pennsylvania's Online College, stipulating that graduates will receive credits towards a bachelor's degree in radiologic or medical imaging sciences from these institutions. The Bachelor of Science in diagnostic medical sonography from Long Island University is five semesters long and students are eligible to sit for the national credentialing examinations in adult echocardiography, abdominal sonography and OB/GYN sonography along with the Sonography Principles and Instrumentation examination prior to completing their degree in order to be credentialed by the time of graduation.
Midwest States
In Michigan, Lansing Community College offers an associate degree in applied science for diagnostic medical sonography emphasizing ultrasound. Baker College, also in Michigan, provides an Associate of Applied Science degree in diagnostic medical sonography through its Auburn Hills and Owosso campuses. Both programs offer hands-on training from local hospitals. Washburn University's certificate in the school of applied studies program has offered all didactic coursework in an online format for over 11 years. Washburn University's location in Topeka, Kansas, allows students clinical experiences in a variety of settings such as private doctor's offices and clinics, large medical centers and smaller community hospitals.
Western States
At GateWay Community College in Arizona, students can earn either a certificate of completion or an Associate of Applied Science degree in diagnostic medical sonography. Students completing the program are eligible to sit for the American Registry of Diagnostic Medical Sonographers exam for abdomen and obstetrics and gynecology. Spokane Community College has an associate of applied science in diagnostic medical sonography which takes seven quarters to complete. Graduates of Seattle University's Bachelor of Science degree in diagnostic ultrasound are prepared for professions in diagnostic medical sonography with its Commission on Accreditation of Allied Health Education accredited program.
Photo Credits
Photodisc/Photodisc/Getty Images