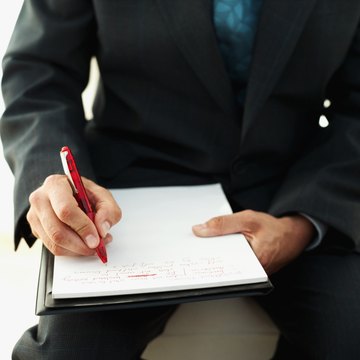 A statistics course is essential for those continuing onto graduate work in psychology.
Becoming a psychologist is a lengthy yet rewarding process. There are many types of psychologists, and all require coursework beyond the undergraduate degree, whether it is a research Doctor of Philosophy degree or a Doctor of Psychology degree. However, you can begin the process of preparing to be a psychologist in your undergraduate program by taking the following courses.
Introduction to Psychology
Every psychology student must take an introductory psychology course as a prerequisite for any higher level coursework, regardless of their future plans. This course is essential for students wishing to become psychologists, as it provides an overview of the theories and history of the entire field of psychology. A survey course of this nature will help you decide what area of psychology you would like to focus on in the future. At most colleges, you can get credit for this course in high school by taking an Advanced Placement Psychology course and passing the AP Psychology exam.
Lower-Level Surveys
Courses focusing on certain areas in psychology, such as abnormal, cognitive, developmental, social or personality, are also required for those wanting to become psychologists. While more specific than the introductory course, these courses offer a general view of the histories, theories and principles in each field. Additional courses might include Conditioning and Learning, Behavioral Neuroscience or Sensation and Perception.
Upper-Level Coursework
Once you feel more confident in your grasp of the foundations of psychology, you must take upper-level coursework in psychology, which examines in depth specific areas of psychology like sport psychology, neuropsychology, child psychopathology or behavioral pharmacology. These courses assist you in exploring your interests and prospective fields of specialty, so be sure to take a Clinical Psychology or related course if it is offered.
Statistics and Research Methods
These courses are often required for psychology majors because they are essential to understanding and managing psychological research and data. Proficiency in statistics and research methods will be fundamental to most advanced psychology courses. Those going into graduate school in psychology need to be especially familiar with the principles introduced in these classes because graduate work assumes a certain level of statistics and research skills.
Science
In order to understand the field of psychology and its benefits, it is important to know the functions of the human body and other scientific concepts. Most undergraduate programs require introductory sequences in biology, chemistry or physics, and many encourage advanced science courses like Organic Chemistry, Cell Biology or Anatomy. Most graduate programs recommend that incoming students have a background in science, particularly if neuroscience is a field of interest.
Composition and English
As a psychologist you will need to be composing and communicating a great deal, whether by taking notes, writing papers, or communicating with patients, so it will be necessary to get as much assistance in this area as possible. Even the application process for graduate will require higher level writing and communication skills so that you can emerge as an outstanding applicant. These classes will provide a foundation in the composition and research skills that will continue to prove fruitful for the career of a prospective psychologist.
Photo Credits
George Doyle/Stockbyte/Getty Images