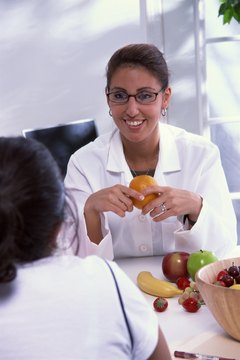 Nutritionist degree programs teach students how to prepare healthy meals.
The U.S. Bureau of Labor Statistics suggests the employment outlook for nutritionists will increase by 20 percent into 2020. Nutritionists encourage people to develop healthy lifestyle habits by monitoring their diet and food intake. The best nutritionist educational programs offer challenging academic curricula involving coursework related to food and nutrition services as well as internship opportunities in health care, community services or food service environments. To become certified in the field, aspiring dietitians must earn a degree from an institution accredited by the Academy of Nutrition and Dietetics.
Southern Schools
The University of Alabama at Birmingham offers a Master of Science in nutrition sciences. Developed for registered dietitians or scholars with an undergraduate degree in nutrition, the 30- to 36-credit-hour program allows students to specialize in pediatrics, exercise science, health education, public health and health services administration.
At the University of Tennessee in Knoxville, students can pursue a Bachelor of Science in health and human sciences with a major in nutrition. UT-Knoxville students have access to several campus-based training and research resources to enhance knowledge gained from classroom studies such as the Healthy Eating and Activity Laboratory and the Infant, Child, and Adolescent Nutrition Lab. The 120-credit-hour program requires students to focus on subject matter related to nutrition counseling and life span nutrition.
Mid-West Programs
Students can earn a Bachelor of Science degree in nutrition at the University of Illinois at Chicago. The Department of Kinesiology and Nutrition provides students with the opportunity to concentrate in one of two primary areas, coordinated program in nutrition and nutrition science. The 120-credit-hour nutrition degree is research intensive, and students are encouraged to complete an independent study project or the senior research seminar and presentation.
Nutrition students at Kent State University in Ohio receive unique opportunities to study abroad in countries such as Costa Rica and Italy. The Bachelor of Science degree in nutrition and food with a focus in nutrition and dietetics offers students a comprehensive overview of the field by exposing them to theories, research, and interdisciplinary coursework related to nutrition and dietetics throughout their matriculation.
Western Programs
At Arizona State University, students can earn a Bachelor of Science degree in nutrition in several specialty areas, dietetics, food & nutrition management, food & tourism management, food service management, human nutrition and nutrition communication. Additionally, the university gives students the option of earning an undergraduate certificate in child nutrition. Arizona State University students maintain a 100 percent pass rate on the National Examination for Registered Dietitians.
Aspiring nutrition professionals at Oregon State University study for a Bachelor of Science in nutrition, focusing on dietetics, nutrition and health sciences and nutrition and food service systems. Oregon State University is home to the renowned, Moore Family Center for Whole Grain Foods, Nutrition and Preventive Health.
East Coast Options
The Bachelor of Science degree in dietetics from James Madison University in Virginia requires students to complete research projects and an internship at a hospital. Courses cover a wide range of subjects including global nutrition and community nutrition. James Madison University boasts a 95 percent pass rate on the National Examination for Registered Dietitians.
The College of Agriculture and Natural Resources at the University of Maryland, College Park, prepares students for careers in nutrition by awarding a Bachelor of Science degree in nutrition. Specialization areas include dietetics, food science or nutritional science. The University of Maryland, College Park, houses the Joint Institute for Food Safety and Applied Nutrition, a research and education institute established with the United States Food and Drug Administration giving students access to one of a kind resources and training.
Photo Credits
Liquidlibrary/liquidlibrary/Getty Images