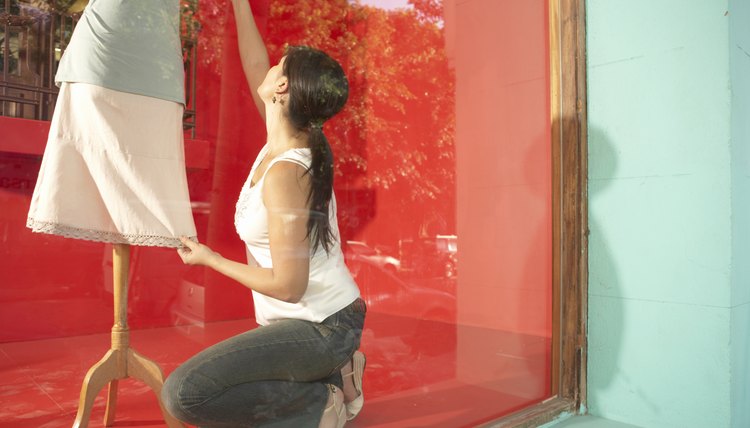 Visual merchandisers might train on the job or in college programs.
Visual merchandisers fill a critical role in retail operations by enticing customers to buy after viewing a window display or other product placements throughout a store, so it's important they receive proper training. Merchandisers learn their craft in a variety of ways, ranging from on-the-job training to graduate programs. While college programs might be the best choice for some, many positions require only a high school diploma, so schooling needs vary, according to O*Net Online.
Training Programs
Some visual merchandisers learn the skills needed for their job during short-term classes or certificate programs, reports Johnson County Community College in Overland Park, Kans. Others might take online marketing courses to help them learn merchandising skills applicable to a variety of settings, as the National Association of College Stores describes. Some employers offer their own company training program, allowing employees to learn visual merchandising skills on the job, according to the TJX Companies Inc.
Associate Degrees
Two-year programs such as the Visual Presentation and Design Exhibition program offered at the Fashion Institute of Technology in New York City give students an intensive study of the various aspects of visual merchandising. Students enrolled in two-year programs learn about graphic design, develop product presentation skills, experiment with lighting techniques and learn to budget materials before earning their associate degree.
Bachelor's Degrees
An undergraduate degree in visual merchandising prepares graduates for a variety of careers, including consulting, display design or merchandising director, LIM College reports. Many programs include internships or other hands-on opportunities for students to experiment with merchandising skills while developing key contacts within the industry. Others might focus on a related subject, such as the retail management program offered at Purdue University. Specialized programs incorporate visual merchandising classes with human resources, store management, sales, accounting, customer relations, consumer behavior and business courses.
Graduate Programs
Some visual merchandisers pursue graduate-level training to qualify them for visual merchandising teaching positions. Others might pursue a master's degree to develop a better understanding of the fashion and design industry, says the University of Nebraska-Lincoln. Graduate programs generally combine merchandising studies with courses in textiles, design and fashion, so students learn about all aspects of the retail industry, as San Francisco's Academy of Art University states.
Photo Credits
Maria Teijeiro/Digital Vision/Getty Images