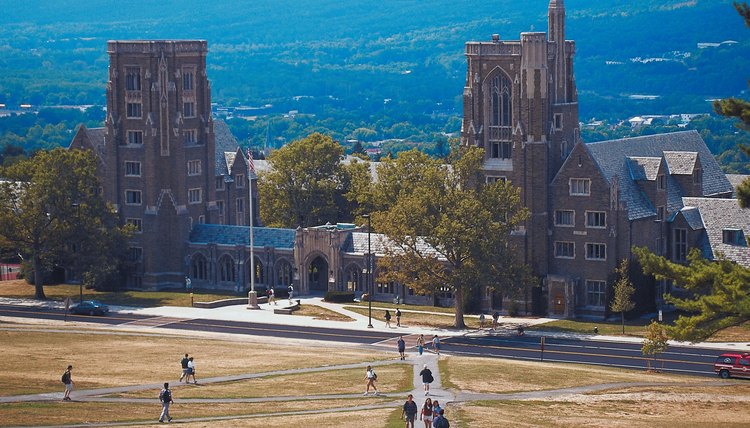 Cornell is ranked among the best universities to study hospitality management.
Accomplished event coordinators are in high demand. The U.S. Department of Labor estimates that the number of meeting, convention and event planners will rise as much as 44 percent by 2020. While there is no particular degree or professional license required to become an event planner, the Bureau of Labor and Statistics suggests that event planners enter the industry with at least a bachelor's degree.
Degrees
Individuals interested in becoming event coordinators will benefit from a degree in hospitality or hospitality management. Michigan State University offers a Bachelor of Science from its school of hospitality business and Cornell University offers a Bachelor of Science in hotel administration as well as a Master of Science in hospitality. Both are ranked among the best hospitality and tourism programs by the "Journal of Hospitality and Tourism Research." Another example is Kent State University, which offers bachelor's and master's degrees in hospitality management and is recognized by the Accreditation Commission for Programs in Hospitality Administration.
Coursework
When selecting a school or degree, aspiring event coordinators should seek out programs that offer on-site training opportunities such as on-campus hotels, conference centers and restaurants, and consider whether or not they offer internships at off-campus venues. Students at Cornell University have the opportunity to train at the 150-room Statler Hotel & J. Willard Marriott Executive Education Center on campus, and Kent State and Michigan State each offer credit for off-campus internships.
Professional Certificates
For current professionals or those looking for a career change, there are a variety of professional training courses and certificated programs available as well. Such programs offer a flexible schedule with night and weekend classes as well as opportunities to learn online. The University of South Florida, for example, offers a professional certificate in meeting and event planning, and Temple University offers an executive certificate in event leadership. Similarly, many universities -- eager to reach out to new and diverse audiences -- offer continuing education programs online. UCLA Extension offers university-approved curriculum, including an online course in special events planning.
Experience
Beyond simply offering courses, colleges and universities are always holding events allowing students to gain valuable experience. Whether it's at a sporting event, faculty conference or alumni fundraiser, aspiring event planners should look for opportunities to work or volunteer on or around campus. DePaul University in Chicago, for example, rents various facilities around campus for professional conferences, book signings and weddings, often hiring students to help set up and conduct the event. According to the DePaul's event management page, regular and on-call student positions are available and range from audiovisual maintenance to providing information about upcoming events via telephone and email.
Photo Credits
Jupiterimages/Photos.com/Getty Images