Not all celebrity trends take the tried-and-true traditional track. With pinup punk enthusiasts like Kat Von D shaking up the style stage, red carpet chic has gone rocker. Tattoo artist, model, musician and star of TLC's four-season television series "LA Ink," Katherine von Drachenberg is no stranger to striking her own style from toes to top. Although she's just as likely to sport a wig as her natural dark locks, her go-to rocker beach waves and voluminous messy bun can work on any hair type.
Rocker Beach Waves
Step 1
Wash and air dry your hair if your hair is straight. If your hair is naturally wavy or textured, wait a day after washing and work on second-day hair.
Step 2
Part your hair deeply on the side or in the center with a comb to mimic Kat Von D's style choices.
Step 3
Work a small amount of anti-frizz serum through your hair if your hair is naturally curly. Blow-dry the hair with a round brush to take out some of the curl.
Step 4
Coat your hair with texturizing spray for extra volume.
Step 5
Wrap 2-inch-wide sections of hair around the barrel of a curling iron for 20 seconds for messy waves. Do not clamp the iron and keep the sections unevenly curled for an unpolished look.
Step 6
Let your hair cool completely. Finger comb the curls into waves.
Step 7
Spritz your hair with texturizing spray again and scrunch sections with your hands if you need extra lift. Coat the completed style with hairspray.
Loose Bun
Step 1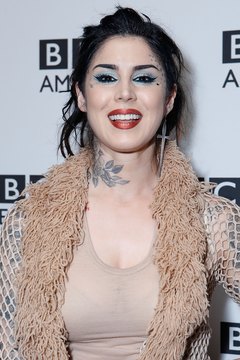 Kat's messy bun shows up at a Hollywood movie premiere.
Wash and towel dry your hair. Blow-dry your hair with a round brush to smooth it out.
Step 2
Separate a 2-inch-wide section of hair at the front hairline. Create a deep side part.
Step 3
Pull the back section of hair into a low ponytail. Add the small side of the front section into the ponytail and then secure it with an elastic band. Leave the large side of the front section as long, side-swept bangs or incorporate it into the ponytail.
Step 4
Tease the ponytail with a comb to get a large, voluminous puff of hair.
Step 5
Gather the puff and twist it around the elastic into a sloppy bun shape.
Step 6
Slide large bobby pins around the edges of the bun to secure it to the scalp. If needed, slide a few pins into the middle of the bun.
Step 7
Pull out small pieces of hair on the sides of your head with a tail comb for a messy look.
Step 8
Lightly coat the style with hairspray.
Things You Will Need
Comb
Anti-frizz serum (optional)
Round brush
Hair dryer
Texturizing spray
Curling iron
Hairspray
Elastic hairband
Large bobby pins
Tail comb
Photo Credits
Jason Merritt/Getty Images Entertainment/Getty Images