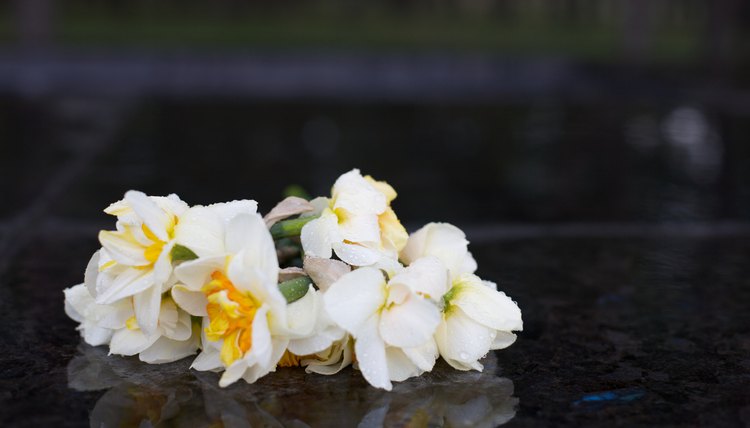 A memorial service is a time to share pain and fond memories.
While writing invitations is perhaps the last thing on your mind when mourning the passing of a loved one, bringing together the people who had the privilege of meeting the deceased can be a source of comfort and closure for all. Memorial services are not only about what was lost, but also about what was gained by sharing -- however briefly -- a life with the deceased. Informative and tasteful invitations are the first step in bringing everyone together to mourn death and reaffirm life.
Pick a Theme
Memorial service invitations range from the somber and religious to more reflective and secular approaches to the format. Before writing a single word, you'll want to decide on how you want to mark the passing of the deceased. For a religious tone, start with a quote from your favorite holy book about death or the afterlife. More secular starts include phrases such as "Join us to celebrate the life of..." or "Join us to fondly remember...." Alternatively, you can also choose a more generic opening such as "In loving memory of..." or "In memoriam...." Be sure to follow the opening of your invitations with the complete name of the deceased. If you are sending the invitations to distant friends, include any nicknames by which the deceased might have been known.
State the Facts
For some, your memorial service invitation may be the first they hear of the person's passing. Distant friends and relatives who may have fallen out of touch with the deceased may not even know where the person was living or who among family and friends is responsible for organizing the memorial service. Start with the dates of birth and death after the full name of the deceased, "(1937-2014)" or "January 12, 1937, to December 5, 2014." Then, identify the organizers and give specific details on the time and place of the memorial. For example, write, "Mr. Husband and Mrs. Daughter request the honor of your presence at a memorial service to be held at noon at the Memorial Gardens, 123 Madison Ave., New York, N.Y."
Be As Specific as Possible
The last thing you want at a memorial service is misunderstandings. If you have any special requests, be sure to state them clearly in the invitation. For instance, you might request that attendees bring items such as pictures for a scrapbook or, instead of flowers or gifts, make donations to a charity of your choice. Give precise instructions. You might write, "Attendees will be asked to say a few short words about the deceased" or "The family of Mr. Deceased asks that, instead of flowers, donations be made to the Humane Society of New York, Mr. Deceased Memorial Fund." If you would like guests to RSVP, state that clearly and provide a contact number or address.
Special Notes
Use your closing to make any special notes about the deceased you would like to include. If, for example, the deceased was especially young, you might write, "We hope you will join us in celebrating the short but well-lived life of Mr. Deceased." For the passing of an older loved one, you could say "Come share the many blessings of Mrs. Deceased's long and fruitful life." For those out of town who will be unable to make it to the memorial service, you could also include an address to send messages and condolences.
Photo Credits
Andrejs Jegorovs/Hemera/Getty Images