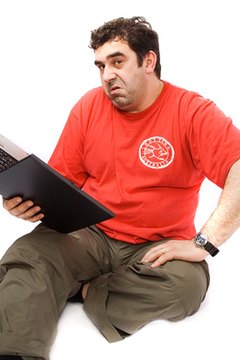 the person with a personal computer image by Hunta from Fotolia.com
There can be many legitimate reasons for looking up personal information on someone using their Social Security number. This includes employment verification, fraud inquiry, or simply locating a lost relative. However, some privacy laws should be kept in mind before performing a Social Security look-up.
Review the U.S. Privacy Act (see Resources). Any individual may access his own personal information. However, you can only locate someone else's information by meeting any of the 12 disclosure exceptions or with the written consent of the person you're trying to locate.
Log on to the Social Security Administration website (see Resources). If you're an employer or a certified third-party individual hired to conduct a background check on an employee, you can register for the Social Security Number Verification Service (SSNVS). Authorized individuals may perform Social Security look-ups using this free service. You will get a user ID after your registration is approved. Log in to the website to request your access code. You will receive the code via mail.
Access an individual's information using their Social Security number. You will need the access code to retrieve such information.
Log on to Direct Screening (see Resources). Direct Screening offers paid services for Social Security look-ups to individuals, as well as businesses. As of 2010, the cost of conducting a Social Security check is $4.95. Locate the information using the Social Security number report link found at the bottom of page. You have to pay the fee before the results are displayed.
Start accessing information using an individual's Social Security number. You will get information on an individual's name, current and previous addresses (along with ZIP codes) etc. The results will also supply the individual's date of birth and current and previous phone numbers, if available.
Tip
If you want to look up information on a deceased person, search a Social Security Death Index (SSDI). Websites like ancestry.com provide this information.
Photo Credits
the person with a personal computer image by Hunta from Fotolia.com