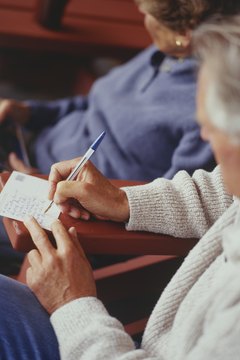 The Canadian postal code looks different than U.S. zip codes.
Addressing an envelope that contains a letter or card bound for Canada is similar to doing so on a domestic piece of mail, with a few exceptions. Although Canadian addresses share traits with U.S. addresses, they use postal codes instead of zip codes and require you to list the country name below the mailing address.
Top Two Lines Similar to U.S. Mail
List the recipient's name on the first line of the middle of the envelope as you would with an envelope sent within the U.S. Use a prefix suitable for the recipient such as "Mr.," "Mrs." or "Ms." followed by the person's given name and surname. Add the recipient's street address and street name on the next line. Use capital letters for the entire address.
Distinctly Canadian
Use the third line of the envelope for the recipient's city, province and postal code. After you list the city and a space, include the appropriate abbreviation for the province. For example, list "ON" for Ontario. Leave a space after the province and then list the recipient's postal code. Unlike zip codes, Canadian postal codes are six alphanumeric digits with a space in the middle. Use capital letters throughout. For example, the third line of your envelope could read: OTTAWA ON K2C 4E6.
Identify the Destination Country
Write "Canada" in capital letters on the last line of the envelope. Do not write anything below the country's name. For example, the entire "addressee" portion of your envelope could read: MR. JOHN SMITH; 123 OAK ST.; OTTAWA ON K2C 4E6; CANADA.
Other Details
Place your return address on the upper left of the front of the envelope and affix the correct amount of postage on the upper right. As of 2015, the U.S. Postal Service requires envelopes sent internationally to measure a maximum of 6 1/8 inches by 11 1/2 inches and weigh no more than 3.5 ounces to qualify for letter postage. Provided you use the correct postage, you can drop the letter in any mailbox or take it to a post office. Although you must fill out a customs form when mailing a package, doing so is not necessary with letters.
Photo Credits
Steve Mason/Photodisc/Getty Images