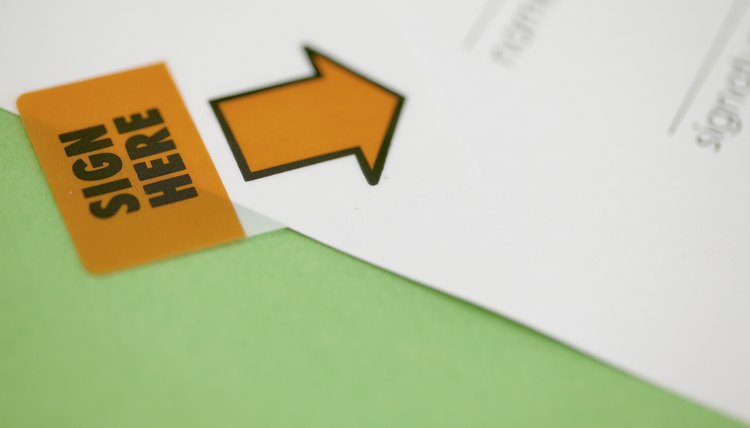 NA/AbleStock.com/Getty Images
A notary public is an agent of a state that bears witness to signatures by parties of a contract. He verifies the identity of each party and confirms that both have properly consented to the agreement with signatures. The notary stamps the signature page of a contract with his seal and signs the document on a notary signature line.
Finish drawing up the contract and provide two sets of lines for the signature of both parties to the contract. For instance, "Signature **** _Printed Name __ Date___." Add one for each party to the agreement.
Skip a line to enter the notary signature line. Enter a blank line for a signature using underscores again (_____), then go to the next line and type "Notary's official signature" directly under that empty line.
Skip another line and enter another blank space with underscores where the notary can write in information. Press enter to go to the next line and then type in "Commission Expiration Date" directly under that line.
Allow room at the bottom of your agreement for the notary to press her seal on the document (at least a square of about 3 inches by 3 inches).
Tip
Keep in mind that some notary public professionals have pre-made stamps that already contain the signature and commission expiration line so you do not have to add it to your agreement. The stamp also contains an affirmation or oath that the notary witnessed the signing of the document.
The exact requirements for notary signatures may vary by state.
Photo Credits
NA/AbleStock.com/Getty Images