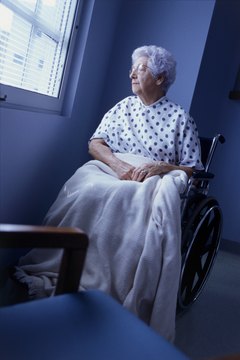 A letter can instantly brighten the day of someone in a nursing home.
It can be challenging to have a loved one move into a nursing home, especially if the home isn't close to where you live. The transition, however, is often tougher on the person who's had to move, and you can do your part by keeping in regular contact. Although phone calls are a simple way to connect, taking the time to write a letter or send a greeting card gives the resident something she can enjoy over and over. Addressing your message to the nursing home resident requires a bit of research, but is otherwise simple.
Visit the nursing home's website, check a business card or brochure or place a call to the home's front desk to determine the mailing address. Doing so constitutes the legwork necessary to ensure you're sending your letter or card to the correct location.
Write a prefix, such as "Mr." or "Ms." and the nursing home resident's given name and surname on the middle of your envelope.
Inscribe "Care of," or the abbreviation, "c/o," and the name of the nursing home on the second line of the envelope. On the line that follows, write the nursing home's complete mailing address. For example, your envelope could read: Mr. Robert Jones c/o Pleasant Park Nursing Home 101 Pine St., Anywhere, CA, 95621
Tip
If you know the resident's room number, include it after the resident's name.
Photo Credits
Purestock/Purestock/Getty Images