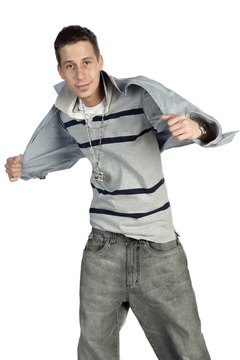 Your portfolio shows if you are a good fit for a job.
The job of a fashion stylist is to create the look and coordinate the clothes and accessories that will be used in a photo shoot or fashion show. Oftentimes, the only method a potential employer may have of judging your experience as a fashion stylist is by previewing your portfolio. To create a professional quality portfolio, you must create books that represent your fashion abilities. As a fashion stylist, you will be responsible for acquiring the clothing, accessories and other embellishments that may be needed to help complete the total look
Look for local stores that sell the style of clothing you are interested in using. Small boutiques are sometimes willing to lend clothes in exchange for advertisement. It is also advisable to contact up-and-coming designers who may be interested in receiving free exposure, as well.
Contact the local store or designer and inquire about clothing rental policies. Try to speak directly with the designer or store owner, who's the person who can make the decisions. When you make contact with the decision maker, identify yourself and explain the reason for needing the clothes. Assure her that you will take great care of the clothes and will return all clothing as quickly as possible.
Make an appointment. Even if you developed a good rapport over the phone, the arrangement of borrowing clothes requires a face-to-face meeting. Make sure you arrive at the appointment on time and bring any information related to your professional styling experience. Be prepared to give the date and time of the photo shoot.
Select the models you plan to use for the shoot. You must obtain each model's accurate measurements to select the clothing and shoes that fit properly.
Return to the store or studio to select clothes and accessories that you would like to use in the photo shoot. Create a contract that lists every item being borrowed. The contract should also include the date and time the clothes will be picked up and returned. The contract should be signed by you and the clothes lender. It is also advisable to take photographs of each item to document the condition in which the clothing was received.
Tip
Return the clothes on the date and time outlined in the contract. It's important that you adhere to all the issues outlined in the contract because you may need to borrow clothing again in the future.
Things You Will Need
Contract with store owner
Photo Credits
Photos.com/PhotoObjects.net/Getty Images