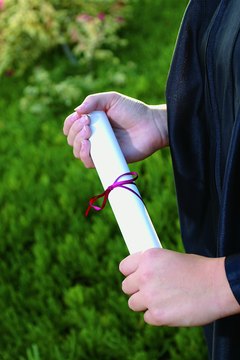 A diploma should reflect high aptitude for learning.
Applying to a college or university can be a daunting task, and the admissions process can be competitive. It is during this time that you start to question whether you've truly done your best and whether that best is really good enough. A high school diploma can be a valuable asset to college admission, but despite what many might believe, it is not a necessary one. Some high school coursework is required for consideration. A high school diploma is useful only if the transcript under which it is presented reflects sufficient aptitude.
Core Curriculum and Requirements
The high school core curriculum consists of four years of English, three years of foreign language, three years of mathematics, three years of science, three years of social studies and two to three courses of electives. A student planning to attend college should aim to build a strong academic record upon first entering high school and maintain academic excellence throughout, since it is this record that determines college eligibility. The courses comprising the high school curriculum help prepare you for some of the most important college entrance exams such as the PSAT, SAT and ACT.
The College Admissions Process
College admissions requirements vary according to which colleges you apply to. Always have at least three colleges in mind for the application just in case an unexpected rejection letter is delivered from your first choice. The "College Handbook," a book compiled and published by the College Board every year, profiles the admissions requirements and academic programs at more than 3,800 accredited universities, colleges, community colleges and technical schools across the nation. You will find that most colleges will offer remedial courses that allow you to be fully admitted if you successfully complete the courses that remove deficiencies indicated by your high school transcript. Basic skills such as reading comprehension, writing, mathematics and critical thinking are vital to college success.
Demonstrating Exceptional Aptitude
If you have demonstrated exceptional aptitude and achievement, you may be eligible for early admission into college by your junior year of high school. Early admission is for students who have excelled academically and are prepared to make a successful transition into freshman college studies. If you are planning to apply for early admission, discuss this with a high school guidance counselor in addition to fulfilling all application requirements and the likelihood of your acceptance based on the your current academic record. You must also complete college entrance exams before applying usually by the end of your junior year. If admitted, you would not have obtained a high school diploma, but rather, you would have been deemed competent to complete college-level coursework.
Remediation
If you have demonstrated poor to average academic achievement and have not received a high school diploma, you may find yourself taking remedial courses to remove learning deficiencies. Some colleges provide courses that allow you to earn your GED certificate. These courses are usually below college level and do not earn college credit. Most students who take these courses are referred by employers to do so. They receive on-the-job training while taking college or technical courses for a degree or certification.
Photo Credits
Jupiterimages/liquidlibrary/Getty Images