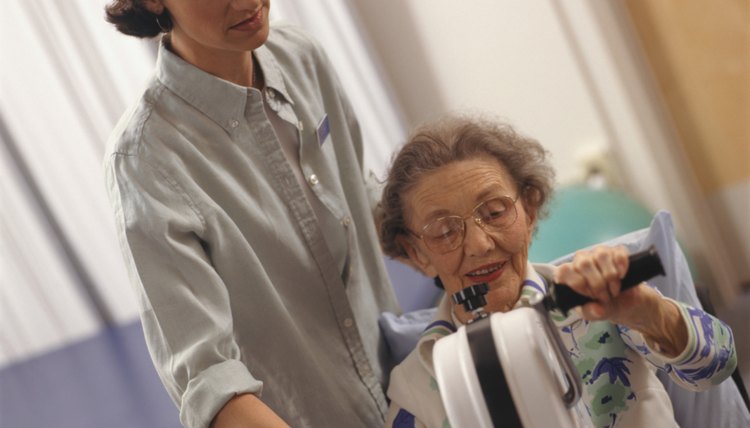 Physical therapists help patients alleviate pain through a combination of stretching, movement exercises and the use of specialized equipment.
Physical therapists are professional health care workers who help ill or injured patients manage chronic pain. Physical therapists observe patients' movements and posture to determine any dysfunction. They use exercises, stretching, physical manipulation and specialized equipment to help patients alleviate pain and increase their mobility.
Physical Therapy Degree Options
Physical therapists are required to have at least a master's degree or a doctoral degree in physical therapy. In addition, they need to take a licensing exam in the state where they want to work. To apply for a graduate degree program in physical therapy, students must have a bachelor's degree. Because most universities do not offer bachelor's degrees in physical therapy, students who are interested in a career in physical therapy can major in a variety of subjects, as long as they take certain prerequisite courses. High school students can prepare for those prerequisites by taking courses in biology, mathematics and chemistry.
Biology
When applying to a graduate degree in physical therapy, students need to have completed prerequisite courses in biology. These college level courses include human anatomy, human physiology and general biology 1 and 2. High school students can prepare for these college classes by taking basic biology classes or, if available, an advanced placement class in biology. These classes cover topics like cell biology, human development, vertebrate anatomy and ecology.
Mathematics
Physical therapy graduate degrees do not require upper-division courses in mathematics, but basic math skills are required for many of the other prerequisite courses. For example, a graduate program in physical therapy requires that students take college courses in biostatistics and physics, both of which require a solid background in mathematics. High school students who are interested in careers in physical therapy can take high school math classes like pre-algebra, algebra 1 and 2, and pre-calculus. These classes cover topics like integers, radicals, exponents, linear equations and inequalities.
Chemistry
Graduate programs in physical therapy also require undergraduates to take two semesters of general chemistry prior to applying. These courses usually include a laboratory component. Students in high school who want to prepare for an eventual graduate degree in physical therapy can begin preparing by taking the high school chemistry classes. In addition, students might take advanced placement chemistry, which can be transferred for college credit.
Photo Credits
Keith Brofsky/Digital Vision/Getty Images