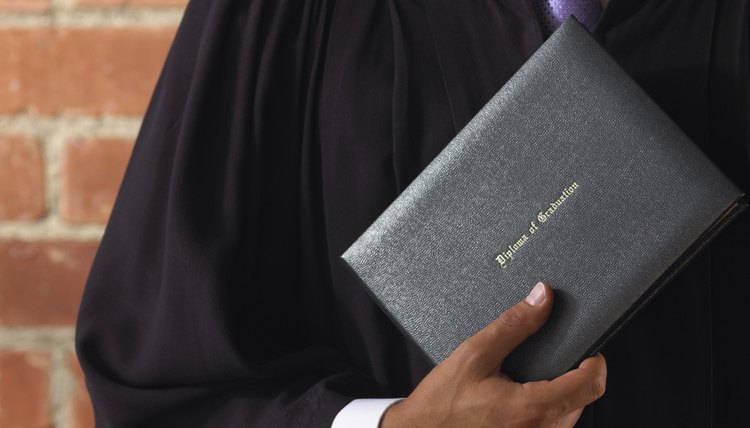 The high school college prep and technical diplomas open different doors for the graduate.
The college prep diploma and the technical diploma both provide the opportunity to extend educational aims and career pathways. However, there are distinct advantages and disadvantages to the technical diploma and the college preparatory diploma. A student's decision to pursue one diploma instead of the other is based on career interests and weighing these advantages and disadvantages. Although the preparation is similar, the curriculum may differ significantly.
College Prep Curriculum
The curriculum that culminates in a college prep high school diploma is academically rigorous. Advanced math and science classes that build and demand high-level critical thinking skills are the hallmark of a college prep diploma. Rigorous social studies and English classes that require extensive reading and writing skills complete the basics of the curriculum. College prep students are also required to be proficient in a foreign language and must earn credits that focus on the fine arts in order to produce an academically advanced and well-rounded graduate.
Technical Curriculum
According to the Education Commission of the States the technical diploma is evidence of a greater depth and scope of of knowledge in a particular technical field. These graduates may even earn a technical certification before graduation. Students may have the option of technical preparation and certification in fields such as health, marketing, technology and industrial education. The focus of the academic focus of the technical curriculum is on exposure to industry skills and terminology and practical application.
Further Education
Requirements for admittance into an accredited four-year college vary, but in general, exposure to higher level courses and a foreign language is a must. These courses are traditionally the ones that are mandated by a college prep high school curriculum. The technical diploma may allow a student to gain entry into a technical college to earn a certificate in their desired field. For the most part, lower level courses that are a part of the technical curriculum do not provide the necessary depth and scope for success in a four-year college.
Potential Lifetime Earnings
The average estimated lifetime earnings for a college graduate is higher than for those individuals who do not attain a bachelor's degree. Some exceptions exist, but in general, the college prep diploma offers the opportunity for higher lifetime earnings. However, some high school graduates who earn a technical diploma and further their education by attending a trade or business school have the potential to make even more money than some college graduates. Also, a student who holds a technical diploma and certification with a focus in engineering may be able to land an entry-level job related to engineering.
Photo Credits
Burke/Triolo Productions/Brand X Pictures/Getty Images