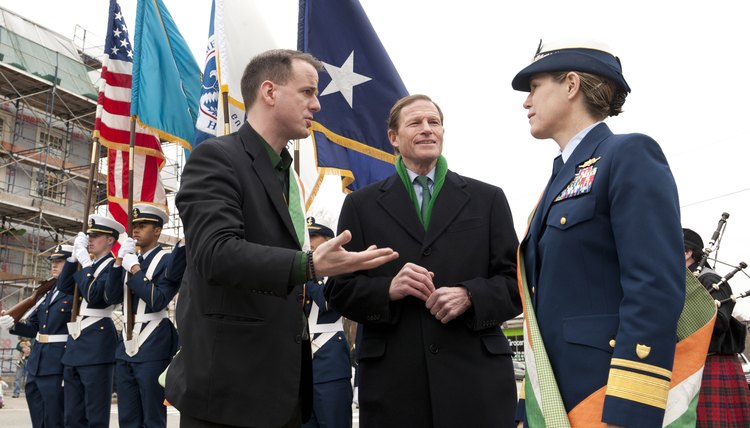 Each year, the Coast Guard Academy accepts 300 students from 5,000 applicants.
If you're interested in serving your country and getting a college education, the Coast Guard Academy in New London, Conn., is an option. Students earn a Bachelor of Science degree from the tuition-free school, then begin a five-year service commitment as Coast Guard ensigns. This is a selective school with high expectations for its freshmen. High school students increase their chances of acceptance if they consider Coast Guard recommendations as they plan their academic schedules.
Classes
Since Coast Guard Academy offers the chance to earn a bachelor's degree, you should take college preparatory classes in high school, including four years of English classes. In addition, since the academy emphasizes math, engineering and science, incoming students must have four years of mathematics. Although not mandated, science is recommended. You should try to fit in chemistry, physics and at least one additional year-long science class.
Honors/Advance Placement Classes
The Coast Guard Academy looks for students who have both challenged themselves academically and excelled at the challenge. Therefore, students should take any higher-level courses that are available. If your high school offers both regular and locally designed honors classes, opt for the honors course. However, if you have the opportunity to sign up for Advanced Placement classes, do so. These classes are very similar to college-level courses, so passing the AP exam shows an aptitude for higher education. In addition, an excellent score earns college credit.
International Baccalaureate Program
The Coast Guard also looks favorably upon students who participate in the International Baccalaureate Program. This standardized course of study, available in almost 150 countries, prepares students in six academic areas, including language and literature, science, mathematics, computer science and the arts. Each participating school must follow specified programs, participate in professional development and continually review their program. Classes emphasize writing, critical thinking skills, creativity and community service. All assessments are scrutinized by IB external examiners to ensure consistency.
More Admissions Info
The Coast Guard wants well-rounded applicants, so you should consider other recommendations they offer. Having several interests outside of school and being a member of organized groups is a plus. Being physically fit and maintaining a high level of fitness is required, so participation in extracurricular sports is important to your portfolio. You must send letters of recommendation from your English teacher, math teacher and guidance counselor. However, unlike other American military academies, a congressional letter is not required.
Resources
Photo Credits
U.S. Coast Guard/Getty Images News/Getty Images