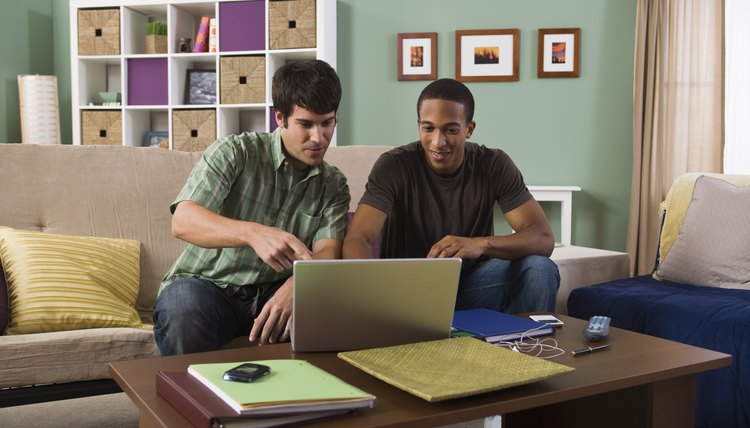 Ask questions about pledging in advance.
The pledging process begins after members extend an invitation for you to join the fraternity. Expect to spend approximately six weeks in an intensive orientation experience. During this time, you will learn about the fraternity and be involved in a number of activities with the members. Pledging should be fun, informative and free of hazing or harassment. You will also discover the secrets that make the fraternity unique during pledging. The rewards of being involved include lifelong friendships, leadership opportunities and connections that will help you in the future.
Time Management
Since one of the goals of joining a fraternity is to make new friends, you will be expected to participate in a number of pledge activities. The pledging period usually becomes more intense as it progresses. Be sure to schedule your time to allow for studying, informal time at the fraternity house and other planned pledging events. Understanding the history and requirements of the fraternity is key, so you will be required to study and pass quizzes before you can be initiated. In addition to planning time to study your academic courses, schedule time to master the facts of the fraternity as well.
Friendships
Pledging a fraternity will introduce you to a brand new group of friends who will soon become your brothers for life. It is important that you do your best to meet each member and learn about why they value the fraternity. Remember, they will be evaluating you during the pledge period, and, if the fit isn't right, you may be prohibited from initiation. During your pledging process, you will meet new people from across the campus. Take advantage of this opportunity to make new connections and learn about campus life. Finally, don't forget to spend time with the friends you had prior to joining the fraternity. Pledging can be an overwhelming experience but strive to have fun and maintain balance.
Studying
Fraternities have academic standards that all members must meet and maintain. Before you join, be sure that you understand expectations. It is important that you remember that you are in college to obtain a degree. Don't let your pledging requirements stand in the way of this. Attend study halls provided by the fraternity and take advantage of tutoring that is available from your new brothers. Some fraternities offer scholarships to fraternity members to honor top academic achievement.
Personal Investment
Pledging should be a fun and rewarding experience. It can also be exhausting. Be sure to invest in yourself, as well as your new fraternity. Consider your personal well-being as you begin your pledge period. Schedule time to sleep and take some time to exercise and relax. Your new fraternity will be evaluating how you handle the rigor of the pledging process, so do your best to maintain a sense of normalcy during what may seem like a chaotic time.
Photo Credits
Jupiterimages/Comstock/Getty Images